Day Of Love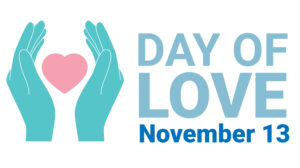 Save the date for a DAY OF LOVE on Friday November 13, 2020 to bring awareness to World Kindness Day and the ONE THOUSAND DAYS OF LOVE campaign. We want to highlight good deeds in our homes, congregations and the community focusing on the positive power and the common thread of love that binds us. November 13 will be a day devoted to the transformative potential of both large and small acts of love. Won't you join us?
To learn how you can take part, download our DAY OF LOVE Toolkit!
If you want to get started on an Act of Love of your own. Download our ACTS OF LOVE Guide designed to help children, youth and adults share love in their home, their community and throughout the world.