INDIVIDUAL CAMPAIGN


INDIVIDUAL CAMPAIGN
Start an individual fundraising page and inspire others to LEARN, SHARE and GIVE over ONE THOUSAND DAYS OF LOVE.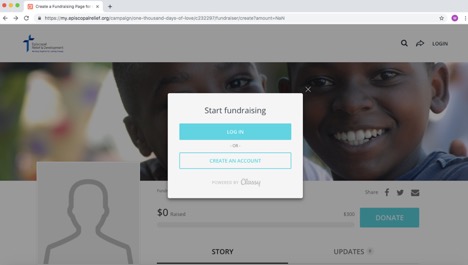 JOIN US! You can set up your own special on-line fundraiser to inspire others to be part of our important work to help communities nurture children to their full potential.
IT'S EASY. You can set your own personalized page, set a goal, invite friends, create a team of supporters, and see the generosity flow.
IT'S FUN. Organize one for yourself or lead one in your community. Click here to set up your event.
You can access our free and simple Instructions for Setting Up Individual Fundraising Pages to get started. 
Here are some simple ideas:
Gifts in honor of your birthday or anniversary: Invite others to give to Episcopal Relief & Development in lieu of gifts.
Build it around a walk, run or ride:  Invite friends to support your community walk, 5K ride or half marathon by raising critical funds for Episcopal Relief & Development. 
Launch a special sporting event challenge:  For the Final Four or World Series, invite friends and members of your parish to give right before tip-off or the beginning of the game and make it count.
Be creative! It could be for World Malaria Day, Oktoberfest, Mother's Day, your spring congregational fundraiser, or simply because you care. That is reason enough.