NetsforLife® Inspiration Fund Newsletter Archive
These selected articles from the NetsforLife® Inspiration Fund Newsletter highlight the efforts of dioceses, parishes and individuals in the fight against malaria.
---
Making the Impossible…Possible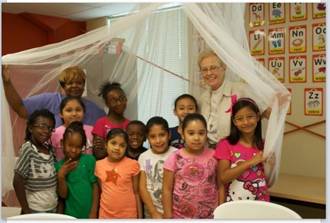 For the past few years I have been a member of Episcopal Relief & Development's NetsforLife® Inspiration Fund Campaign Advisory Committee. Part of my role as a committee member is to raise awareness for the prevention of malaria in sub-Saharan Africa. In this capacity, I occasionally speak to groups about what a significant difference NetsforLife® is making by changing lives.
A couple of months ago, Ed Franklin, director of Voice of Hope Ministries, presented at our Women's Forum at Church of the Transfiguration in Dallas. Our parish has been involved for several years in supporting this work, which serves as a voice of hope in the West Dallas neighborhood where it is based, providing food, education and stability for youth and families who are stressed by poverty and violence.
As we were catching up after his presentation, Ed recalled a conversation we had several months before about NetsforLife®. He asked me to speak to the children at Voice of Hope about mosquito nets, with the possibility that the children at Voice of Hope could make their own contributions toward purchasing mosquito nets in sub-Saharan Africa.
I was happy to go, but I had an underlying reservation. The children and families of Voice of Hope have such limited means. Should I really be going there to ask for anything? However, because I was invited, I gave four separate presentations to students and teachers in grades 2-5.
I was humbled. While speaking to the youngest group of children, one of the second grade girls asked to be excused from the presentation room to get something from her classroom. She came back with her own money to make a contribution. One of the teachers slipped in a $20 bill, and still another teacher discussed making a contribution in honor of her mother who just turned 95.
In this community of very limited means, a sense of scarcity did not seem to exist. The students and teachers were willing to share what they had so that others might have a better chance to live. This group of people hadn't gotten the message that they didn't have enough for themselves, much less enough to help others. The logic of finances was subverted by compassion for those in greater need.
Similarly, I had the opportunity to visit the Canterbury School in DeSoto, Texas to see a production of Godspell. Sixteen year old Benjamin Wright had decided that it was important to find a way to provide clean water for people in Africa. He raised the funds to pay for the royalties up front in 6 weeks and set an additional goal to raise $8,000 for clean water in Africa. Didn't he know that he's just a kid and shouldn't be able to do all that? Apparently not, because by opening night, the cast and crew had already raised $2,000.
Sometimes, the voices and actions of youth and children, and those who have the faith of little children, speak the most profoundly because they are not held back by logic or limitation. Instead they are propelled forward by God's possibilities for abundant life and the gospel message of God's Love. Many times the simplicity of childlike faith leads to abundant life, by escaping the analytical thinking that curbs our faith.
Jesus didn't tell the little boy that his loaves and fishes weren't enough to feed 5,000. No one told the kids at Voice of Hope that they were too poor to give to those struggling against malaria. No one told the young man in DeSoto that he didn't have the means to produce a show, or raise funds to help those suffering from a lack of clean water.
Will we be like Philip who said, "We'll never have enough to do that," or like Andrew – "Maybe, but no we couldn't possibly…" or will we be like the young boy who allowed his simple lunch to be used by Jesus and then saw what the power of God can do.
Perhaps a little more belief in the impossible, will allow God to make all things…possible.
NetsforLife®, a program partnership of Episcopal Relief & Development, empowers communities to eliminate malaria by providing life-saving prevention training, education and long-lasting insecticide-treated nets.
The NetsforLife® Inspiration Fund is in the final stretch to raise $5 million by December 31, 2012. We are currently at 91% of our goal with over $4.5 million raised.
Photo courtesy of the Rev. Joy Daley for Episcopal Relief & Development
The Rev. Joy Daley is Vicar of the Church of the Transfiguration in Dallas, TX, and a member of the NetsforLife® Inspiration Fund Advisory committee.
---
Team NetsforLife®: Reaching Beyond for the Greater Good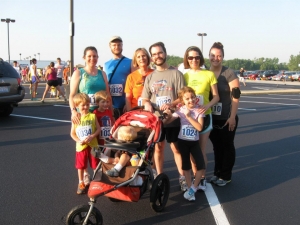 "The more you lose yourself in something bigger than yourself, the more energy you will have."
~ The Rev. Dr. Norman Vincent Peale
Nowhere, perhaps, does this statement hold more truth than for the 24 runners from the Diocese of Chicago'sTeam NetsforLife® who participated in the Chicago Half Marathon and 5K; and the DeKalb Corn Classic. These men, women, and children chose to dedicate their time, training, and physical endurance to run for a cause, to build awareness and raise funds for NetsforLife®.
NetsforLife®, a program partnership of Episcopal Relief & Development, empowers communities to eliminate malaria by providing life-saving prevention training, education and long-lasting insecticide-treated nets.
Kristin Duffy, a member of St. Paul's Episcopal Church in DeKalb, IL, wrote:
"When our family prays together, we end with this: 'Let us always be mindful of the needs of others.' My husband and I feel strongly about incorporating this message into our children's lives, and in addition to discussing it, we look for opportunities to live it out, as individuals and together as a family. Taking part in a NetsforLife® fundraising team provided such an opportunity; it gave us a chance to demonstrate how every person can make a positive change in the world. You don't need to be a grown-up or be wealthy!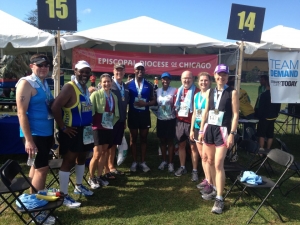 It was exciting to explain to our children that they helped raise more than $1,000 to purchase mosquito nets that will prevent malaria for people that we will never even know. We are privileged to belong to a church community that shares our dedication to remembering the needs of others, and takes action to make a difference."
Duffy, her husband, and their children ran together with seven other friends from St. Paul's in the DeKalb Corn Classic on August 25th, 2012 to raise funds for NetsforLife®.
Catherine Moore from the Diocese of Chicago wrote:
"I was running for all those children (now probably parents) I encountered while a graduate student working in Tanzania and the Sudan. Episcopal Relief & Development provides their communities with a sensible tool to prevent the spread of malaria, and 92 cents of every dollar goes to the field. My father-in-law contracted malaria in then-Malaysia and suffered for from it for the rest of his life. I took anti-malarial while I lived in, and later visited, Africa and suffered the mild, but nonetheless unpleasant, side effects. I am so happy there is support for easy-to-use, cost-efficient tools to prevent this disease."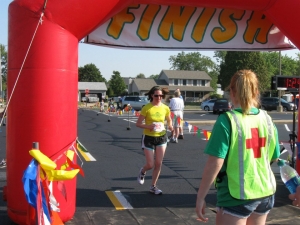 Like these two women, the sentiment across Team NetsforLife® was very clear: running for those that face death from malaria each day brought a new and beautiful perspective to the tremendous amount of work it takes to prepare for marathons and runs.
The Rev. Jennifer Baskerville-Burrows, Director of Networking for the Episcopal Diocese of Chicago, reflected on the experience:
"This is an honor, a privilege and a choice—keep going. That was my mantra, over and over again as I forced my legs to take one more step during the last mile of the Chicago Half Marathon on Sunday. That is never my mantra when I'm out for a regular run. But this was different—I'd never run—or attempted to run—13.1 miles before. And I've never run for such a cause."
The Rev. Baskerville-Burrows goes on to recount, that while the finish line seemed as far away as the moon, that she kept moving forward, knowing that her particular "struggle" was nearing a conclusion, and that she ran not only for herself, but for those that supported her in this race and those who struggle for life and death because of malaria.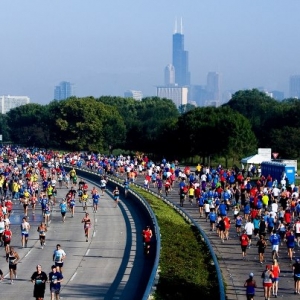 During this race, the Rev. Baskerville-Burrows found the strength she needed to complete the race by reaching beyond her.
These two races were part of a partnership between the Diocese of Chicago, and Episcopal Relief & Development. The goal was to unite the passions of individuals with the passion of the organization to heal a hurting world.
By combining the love to run, cycle, golf, etc, with Episcopal Relief & Development's work to help those around the world in need, all have grown stronger. There are many ways to improve this kind of partnership, but the experience is a positive step forward to helping people lose themselves in something greater than themselves.
Congratulations to all the participants in the DeKalb Corn Classic, and the Chicago Half-marathon and 5K for supporting NetsforLife® in the Diocese of Chicago.
The NetsforLife® Inspiration Fund is in the final stretch to raise $5 million by December 31, 2012. We are currently at 90% of our goal with $4.4 million raised.
Photos courtesy of the Rev. Rich Frontjes and the Rev. Jennifer Baskerville-Burrows for Episcopal Relief & Development.
---
Making a Difference Essay Contest Winners
The NetsforLife® Inspiration Fund and Episcopal Relief & Development are proud to present the winners of the World Malaria Day 2012 – Making a Difference Essay Contest!
Our contest asked the question, what can you do to make a difference in the global fight against malaria?
Both of our winners wrote eloquently and creatively about how they could effect change in the world. So without further ado:
Our First Place winner, Adriana Embus, from Columbus, GA, is an 11th grader attending the Brookstone School. Her essay has been reprinted below.
Our Second Place winner, Nimansha Jain, from Omaha, NE, is an 11th grader attending Millard North High School.
Congratulations to both of our winners! Thank you for choosing to Make a Difference in the fight against malaria.
First Place Winner Adriana Embus – Winning Essay:
Bzzzzzzz.
An early bird chirps in the nearby tree.
Bzzzzzzz.
The sun rises; the first ray of sunlight penetrates my bedroom window.
Bzzzzzzz.
I faintly open my eyes, and notice that -SPLAT!- my Liberian friend, Moselyn, finally kills the annoying mosquito flying around my bed net. What Moselyn, along with hundreds of my West African friends, doesn't realize is the possible danger a mosquito can be.
I had traveled to Virginia, Liberia three days earlier. My school's service team had tirelessly planned workshops on leadership, HIV and AIDS, and American culture. Arriving there, we were ecstatic to embrace the Liberian culture and learn about every aspect of it. We met hundreds of students, bonding through interactive group activities and learning about their home lives. Determined to make a difference, we constantly looked for any material things they were in need of. Instead, we found none.
One day, however, we were guided to a nearby orphanage. Upon our arrival, I noticed a horrific scene out of the corner of my eye. In a small bedroom, with only a small table and bed, there were three children curled into fetal positions with chill bumps all along their arms and legs. Turning around to find an adult, I asked the director of the orphanage why they were so cold. Responding in a deep Liberian-English accent, she said, "Malaria." We soon discovered that we had been looking for the wrong thing all along, and we noticed that the orphanage was in need of something intangible not material: knowledge. They needed knowledge about this disastrous disease called malaria.
Along with my other team members, I soon tweaked my workshop to focus on malaria, which is very prevalent throughout Liberia and all of West Africa. With much work and determination, we taught about all the aspects of malaria, the ways of contracting it, techniques to fight it, and the effect it has caused throughout the world. What most shocked us it that people were surprised that parasites, such as the mosquito by my window, are what transmit the disease.
Our workshops soon reached over one thousand Liberian nationals. Knowledge was their necessity all along. Only with a few pieces of information did we find a way to make a difference in Liberia, and our team was determined to make an even bigger one back home.
Today, our team continues to educate our school and community about the drastic effects malaria has caused around the world. We encourage our school to participate in the efforts organizations have led to fight this disease and lead projects to benefit both our friends inLiberia but also any country dealing with the problem of malaria.
Anyone can make a difference. It only requires some knowledge, ability to translate it and willingness to serve the world. We can all learn to -SPLAT!- that mosquito and eradicate malaria. Let's do it.
---
Diocese of Virginia Youth Stomp Out Malaria
On a beautiful Sunday afternoon in October, a number of youth from Region 3 of the Diocese of Virginia, organized a family walk to support NetsforLife®.  The event, hosted by St. Peter's Episcopal Church in Arlington, brought together multiple generations for worship, fellowship, and education on fighting malaria.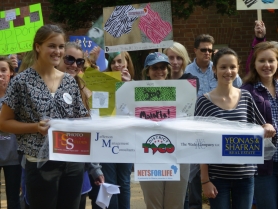 Participants came wearing boots of all kinds, ready to "stomp out malaria."  The event began with sign making and an educational skit.  The group then proceeded to stomp around the surrounding neighborhood displaying the NetsforLife® signs and white mosquito netting.
Following the walk, youth led a joint service in St. Peter's outdoor chapel.  Resources from the NetsforLife® Inspiration Fund website inspired the content of the service.
Emily, a high school freshman and co-leader, reflected,
"The Region 3 Walk was my first NetsforLife® fundraiser. That morning before the walk was a busy one for me at church, but I was determined to get through it for the walk. The walk itself wasn't the biggest one in the world, not even close too, but we raised quite a bit of money forNetsforLife®, which was the most important part for me. It felt amazing to be able to say that I was a part of the ever-growing movement against malaria, and I will never forget that day. Since then I have done fundraising at my own church.  I was inspired to do so partly by the amazing amount of support we got from the Region 3 Walk."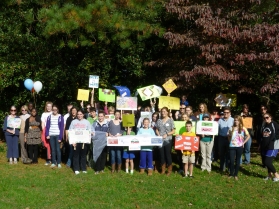 In addition to those that participated in the walk, the youth garnered support from the local businesses.  In exchange for these businesses donating funds for 20 nets, the walk leaders proudly displayed the company logos at the front of the line.  Nearly $3000 was raised for the NetsforLife® Inspiration Fund!
This was a beautiful demonstration of a community joining to help our brothers and sisters in need in sub-Saharan Africa and part of the Diocese of Virginia's goal to raise 20,000 nets by the end of 2012.
The NetsforLife® Inspiration Fund is a grassroots effort to educate, engage, and unite Episcopalians to support the Millennium Development Goals through the fight against malaria. Our goal is to build awareness about this disease, how it can be prevented, and raise  $5 million by December 2012.
Photos courtesy of Nina Bacas for Episcopal Relief & Development
---
Trinity Students Cast Nets to Save Lives
Every year, almost one million people die from malaria, most of them children younger than five years old. Ninety percent of those deaths occur in sub-Saharan Africa. A simple preventative measure – sleeping under an insecticide-treated net – offers a significant reduction in malaria transmission, suffering, and subsequent deaths from the disease.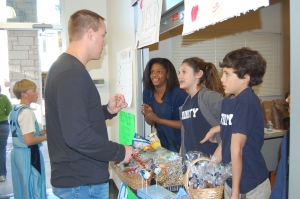 Despite these alarming statistics, it is estimated that less than 5% of children in sub-Saharan Africa currently sleep under any type of insecticide-treated net. However, NetsforLife®, a program partnership of Episcopal Relief & Development, empowers communities to fight malaria.
NetsforLife® combats malaria by training community agents to deliver life-saving nets, educating community members about proper net use and maintenance, and providing on-going monitoring and evaluation of net use.
At Trinity Episcopal School in Austin, Texas, a concerted effort to provide as many nets as possible for the NetsforLife® program grew out of two academic efforts – one based in the science curriculum, the other in service learning. During the fall trimester, Middle School science teacher Sarah Horan's seventh-grade science classes were studying diseases: their origin, transmission, prevention, and impact on society and culture.  Their work culminated with a discussion about how the students would dedicate resources to have the greatest impact on disease prevention (based on the model of United Nations relief efforts). Of the five diseases they studied, they settled on two candidates for their support: tuberculosis and malaria.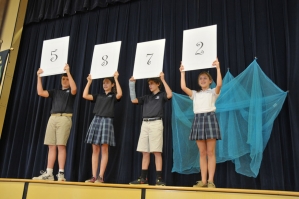 Meanwhile, as part of the yearlong Trinity Stewards service-learning program, initial connections were being made with NetsforLife®. Trinity's Middle School students serve as Stewards of the Environment (in terms of both the natural world and human circumstances). As part of her efforts with the fifth-grade class to study how the mitigation of environmentally based diseases, Chaplain Cathy Boyd had reached out to NetsforLife®.
This happy coincidence led the seventh graders to determine that their hypothetical resources would best be dedicated to malaria prevention. They were also inspired to act, working to raise funds for NetsforLife®. Their initial effort grew into a school-wide campaign to have each student raise enough funds to purchase one $12 bed net.  "The students made the connection between their classroom studies and a real-world need," the Rev. Boyd said. "They saw how they could apply what they had learned about malaria to make a true difference in people's lives."
Working together, the fifth and seventh grade classes launched their NetsforLife® campaign at Trinity's November basketball Spirit Night. They hosted the concession stand selling hot dogs, drinks, and baked goods (with the proceeds going to help buy nets), produced an informative public service announcement that ran on screens in the gym throughout the evening, and staged halftime free throw contests to raise funds.
With the help of the Rev. Boyd, they rolled out the campaign to the entire school, visiting the Lower and Middle School chapels to challenge their classmates to each raise enough funds to purchase one net for the program. They emphasized that students should find ways to earn the money themselves, to reinforce the idea that individuals efforts can make a difference in the lives of others.
Trinity's students took to the challenge with vigor. From the younger children helping their parents and siblings around the house to more entrepreneurial efforts such as lemonade stands, selling self-drawn comic strips and duct-tape baskets, and babysitting, each student worked to earn what they could, on their own. Overall, Trinity students raised $5,872.00, enough to help NetsforLife® purchase 489 nets (more than one per Trinity's 446 students).
The NetsforLife® Inspiration Fund is a grassroots effort to educate, engage, and unite Episcopalians to support the MDGs through the fight against malaria. Our goal is to build awareness about this disease, how it can be prevented, and raise $5 million by December 2012.
Photos courtesy of Trinity Episcopal School, Austin, for Episcopal Relief & Development.
---
NetsforLife® Helps to Make the Garden Grow
UGANDA – Though Uganda has experienced a period of political stability and economic growth since the 1990s, an estimated 35% of Ugandans still live in poverty.  The majority of Ugandans (about 88%) live in rural areas, where subsistence agriculture is the major source of food and income.
Today, malaria is a leading cause of illness and death in Uganda.  It is responsible for 40% of all outpatient visits, 25% of hospital stays and 14% of deaths in hospital.  Children under age five and pregnant women constitute the majority of malaria cases.
Christian Aid is the NetsforLife® partner in Uganda, working directly with churches on the ground to fight malaria, and through this partnership, NetsforLife® has reached over two million beneficiaries both directly and through education on net use, training on malaria, and ongoing monitoring and evaluation.
Zainab Anguzu is a NetsforLife® beneficiary living in the Arua district of the Madi West Nile Diocese-Northern Uganda.  Zainab is the second wife of Hajji Badru Anguzu, who has ten children, four of which are Zainab's, and the rest are the children of another wife.  As Muslim wives, they are obliged to co-operate with one another.  The wives take the children to the hospital or to a health center. This can be very difficult since the nearest health center is far away and their only means of transportation is a bicycle.
Zainab and her co-wife celebrate the fact that they no longer have to seek medical treatment for their children,because of the nets they have recieved from NetsforLife®. Zainab recently bought a shamba, land for gardening, with the money she has saved from not having to take the children to the doctor.  With this garden, she can feed her family and earn a living by selling the excess produce.  She is joyful at knowing how to detect malaria in her children because of the training she received from the NetsforLife® Malaria Control Agents and able to teach her neighbors about how to prevent malaria.
Since 2008, NetsforLife® has delivered more than 4.8 million nets across 17 countries in sub-Saharan Africa resulting in fewer infections, fewer deaths and stronger communities.
Working at the grassroots level within the Episcopal community, the Inspiration Fund will help NetsforLife® deliver upon its promise to distribute 7 million nets by 2013. Our goal is to build awareness about this disease, how it can be prevented, and raise  $5 million by December 2012.
---
A Child Shall Lead Them
By the Rev. Dr. Mark Anschutz
For the past two years, Saint Mary's Church in Barnstable, MA, has been holding a very special Eucharist each month.  This celebration, called the Joy Mass, is designed specifically for children and allows them to experience the Eucharist in a comfortable environment.  The Joy Mass encourages biblical literacy and spiritual maturity. Elements of the service are explained so that children and adults alike will better understand the liturgy, and each one of these special celebrations ends in a rousing song.
During each Joy Mass, I speak to the children about malaria and those in Africa who contract malaria because they do not have a mosquito net to protect them.  An actual net is always hung next to the altar and at every service, a new lesson is taught about how helpful the nets are in preventing other children from suffering and dying.  Using the net, the I explain to the children that they can help those at risk to be disease free by sending them nets through NetsforLife®.
A little over a year ago, two children in Saint Mary's congregation took this call very seriously.  During the Joy Mass, as some of the children brought forward the bread and wine and others assisted with setting the altar; two young sisters came tentatively forward.  In their hands, they held coins and dollar bills and after setting their offering down on the altar; they quickly retreated to their seat.  When gently prodded to explain such a large quantity of coins and bills, the sisters said that these were proceeds from a recent lemonade stand and that they wanted everything to go towards malaria nets, and the NetsforLife® Inspiration Fund.
These two girls, Deirdre and Brenna, have ignited among virtually every child in the parish a fresh approach and new energy for childhood industry.  Hundreds of dollars are being generated, set in the hands of the children, and have found their way to that small altar.
One family sold flowers for Easter, and during a parish car wash, the children of Saint Mary's set up a lemonade stand and raised $60 for NetsforLife®.  Others among the congregation have established their own lemonade stands, always giving what they make to the fight against malaria!
The adults, seeing the enthusiasm of the children, are getting involved as well. The Episcopal Church Women of Saint Mary's awarded a grant to NetsforLife®  to show their support for the work of these small but industrious leaders.
The children of Saint Mary's have given over 150 nets to their friends in sub-Saharan Africa, and they continuously work to send even more.
Words cannot describe the light in the eyes of these children and the sense of joy and satisfaction they take in making these gifts.  As well, in the small parish of Saint Mary's Church they have become a splendid icon to all, old and young alike, of what it means to simply live out the Christian faith.  For this, we are deeply indebted to Deidra and Brenna for their resourcefulness and simple goodness, and for teaching all that, "A child shall lead them."
---
Children Reinforce the Importance of Malaria Education
Nigeria – Many parents in Ozara-Akukwa Umuchu were afraid for their children to sleep under long-lasting insecticide-treated mosquito nets because they believed it led to itching, elevated heat levels, or illness. Mrs. Njideka Umeh, a widow and mother of three, was one of these parents who never believed in allowing her children to sleep under a net because of its rumored negative effects. Mrs. Umeh used mosquito nets to screen the windows and doors, but avoided direct body contact with the net, because according to her, the net was powerful and capable of killing any living thing that came in direct contact with it, including people.
However, her children convinced her otherwise.
When a malaria control agent asked her during a monitoring visit, "How much do you spend buying drugs from the chemist, and how often do your children fall sick?" her response was that it is immeasurable.  However, she preferred the expense and hardship of acquiring the necessary drugs over the exposure of her family members to the perceived possibility of harm or even death due to the mosquito nets themselves.
Owing to much pressure by her children, Mrs. Umeh revealed, the family began sleeping under nets on March 18, 2011. The children came home from school following a malaria education training, and pleaded with her to sleep under a mosquito net.  She told them what she believed to be the dangers of sleeping under the net, but they maintained that all their fellow pupils who sleep under a net each night are well.  They acquired a net the same day through a net distribution, and the children showed her how to hang it above their sleeping area.
At first, the children complained of itching and excess heat.  However, they insisted on sleeping under the net as they were taught.  Mrs. Umeh's children told her that it is better for them to sleep under the net, in order to save the treatment money for food and school fees.  After only three days of sleeping under the net, all the children's complaints ceased.
Whenever Mrs. Umeh's children wake up and realize that she is not sleeping under a net, they show their displeasure to their mother, and as a result, she has decided to use one as well.
Today, she and her children are comfortably sleeping under the net and she prays never to encounter the recurrent expenses and sickness caused by malaria.  She now teaches women who have the same beliefs as she once did, that mosquito nets are dangerous, and helps to change their negative beliefs about net use just as her children helped to change them for her.
Christian Aid is the NetsforLife® implementing partner in Nigeria, working directly with churches on the ground to fight malaria.
---
Saving a Life Before the Soul: Casting a Net Over Malaria
By Bruce A. Spotswood Friesen
Diocese of El Camino Real – In 2010, the diocese committed to supporting the NetsforLife® Inspiration Fund and set a goal of securing 11,386 nets, one net per member.  The following message is written by Bruce A. Spotswood Friesen, Parish Administrator for St. Andrew's in Saratoga and Episcopal Relief & Development Diocesan Coordinator.  He shares his personal reflections on this campaign.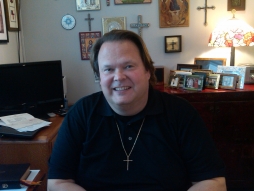 "Walking along the beach of Lake Galilee, Jesus saw two brothers: Simon (later called Peter) and Andrew. They were fishing, throwing their nets into the lake. It was their regular work. Jesus said to them, "Come with me. I will make a new kind of fisherman out of you. I'll show you how to catch men and women instead of perch and bass." They did not ask questions, but simply dropped their nets and followed."  – Matthew 4:19
As a child I was fascinated by this verse when it would come up in a Sunday School lesson, I think mainly because it gave me an opportunity to ask my teacher how can you fish for people? Plus it was a perfect way to distract the teacher and get a laugh.
I never thought that a verse from my childhood could turn around and bring such a new meaning in my life today. When I first started reading about Episcopal Relief & Development's NetsforLife® Inspiration Fund Campaign it drew me back to the passage in Matthew 4. Now I literally can throw out a net that gives me a physical opportunity to save a life before the soul.
I am grateful to Bishop Mary for embracing this yearlong campaign to send 11,385 nets to help combat malaria in Africa.  We are just closing in on six months into this campaign and we have sent 4,343 nets!
Thank you for a great start. My personal goal was to give up my Starbucks for the year and put that money towards nets. It has been a struggle, but also a big realization as to what I spent on my coffee versus how many lives I can save.
My motto for this year is, "Where else can you spend $12.00 and save three lives?"  I wish my teacher were here to see I did listen somewhat in Sunday school.
Come with me and I will show you a new way to fish…
---
Parish Episcopal School Supports NetsforLife® and Malaria Prevention
By the Rev. Joy Daley, Vicar, Church of the Transfiguration
After I returned from Africa last summer with Episcopal Relief & Development, I was invited to serve on the NetsforLife® Inspiration Fund Campaign Advisory Committee. The goal of this committee is to work with organizations within the church and beyond to raise awareness about the deadly effects of malaria in Africa, which is carried by mosquitoes. We are also charged to spread the news about how we can work together to wipe out the spread of this disease that kills so many children under the age of five.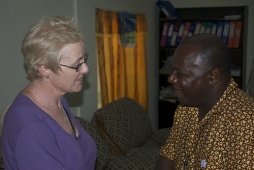 In the United States, we all know what it feels like to be bitten by a mosquito. It itches and is annoying but in a few days, the effects are gone. In sub-Saharan Africa, however, there's a certain type of mosquito that only comes out after dark that carries malaria. The spread of the disease is so pervasive, that a child dies from it every sixty seconds. In the time that it has taken me to write these two brief paragraphs, five children have died.
While there is research being done to develop a vaccine to prevent malaria, one has not yet been found. The most effective way then, to prevent malaria is by insecticide treated mosquito nets that hang over beds at night. What I learned while I was in Africa is that these nets are making a huge difference. I was able to talk with people who said that while several family members had been sick before, since mosquito nets provided by Episcopal Relief & Development have been used, no one had been sick with malaria.
Through NetsforLife®, one mosquito net can cover a mother and two children. The $12 cost of the net includes the education, training, and monitoring and evaluation that go with it. This is very important because there are a number of worldwide organizations that drop nets in Africa, but many nets have gone unused because community education has not been provided. Episcopal Relief & Development always includes this with net distribution, training, and monitoring and evaluation. The current goal is to raise 5 million dollars to continue saving lives in Africa via the NetsforLife® Inspiration Fund.
Part of my role as an advisory committee member is to spread the word throughout our diocese about the work that is already happening and to encourage churches, schools and other organizations to become a part of this life saving work. With this in mind, in January I contacted head chaplain and the coordinator the outreach efforts of the Parish Episcopal School. My goal was to engage the school in a campaign during Lent. As Lent began, I preached during chapel services on both campuses sharing with faculty and students how a simple effort could have such a huge impact, connecting what they might do with Christ's servant ministry.
Using their own creativity and the resources on the NetsforLife® Inspiration Fund website, the whole school became involved throughout the season of Lent. On the Hillcrest campus, the younger students brought up their offering each Thursday to be blessed after the opening procession. At the Midway campus on Maundy Thursday, representatives from all levels laid their offerings on the altar. The campaign culminated with a NetsforLife® basketball tournament during Easter week. Both students and staff participated. Between plays, facts about malaria and its effects were announced.
As a result of this well organized, integrated effort at our school, over $6,000 was raised. I am very proud of our faculty, chaplains and students for their enthusiasm and effort during this campaign. There is still work to be done, however.
You too can be a part of saving lives in Africa. Just $12 buys one net. For more information and to give online please visit our 
Malaria page
.