Mexico
Mexico ranks highly in economic output, but poverty and income disparities still plague the country's rural and border areas. As in many countries, women are at a particular disadvantage when it comes to accessing economic opportunities.
Episcopal Relief & Development is partnering with the Diocese of Southeastern Mexico to create economic opportunities and improve the food supply in the states of Veracruz and Oaxaca. Our micro-finance program focuses on forming community-based savings groups while providing financial literacy and education. The savings groups provide community members, primarily rural women, with an opportunity to save and borrow money to meet their needs and increase their income.
In addition, our partnership includes support for the Church's pig-breeding program. It was designed to supply food for families and help women heads of households earn an income.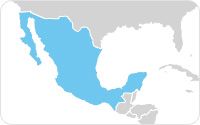 Alleviating Hunger and Improving Food Supply
Training in pig breeding and management to help produce food and generate income
Creating Economic Opportunities
Improving access to micro-finance services that empower women to earn income and support their families
Our micro-finance programs emphasize involving both women and men, which can be very effective in promoting gender awareness and empowering women. When women become breadwinners, they increase their role in household decision-making, which often enhances the whole family's well-being. Read more about Micro-finance.
Read more about Micro-finance
Donation
TO THE ECONOMIC OPPORTUNITIES FUND