Fast to Feed
The 75th Anniversary Celebration and related campaigns are no longer active. Please take a look at the latest activities available in our Church in Action Section. 
_____________________________________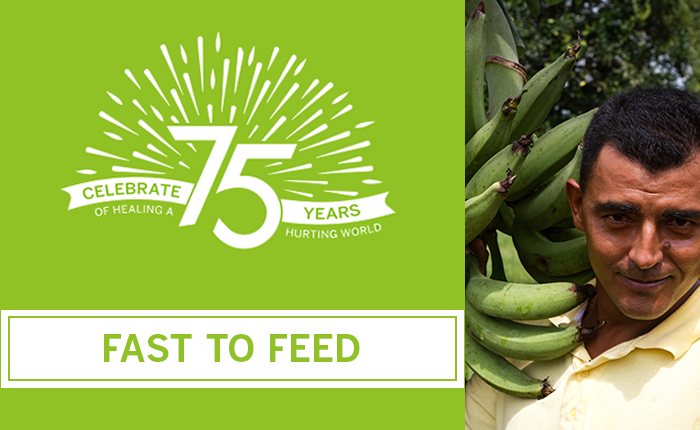 Fast to Feed Campaign
I believe that no one should go hungry.
Extreme hunger and poverty affect over a billion people worldwide.
Each year, more than 10 million children under five die from malnutrition and hunger-related causes.
Episcopal Relief & Development and its partners work to alleviate hunger and improve food supply, through integrated community-based programs.  Working with Church partners, we empower people to live healthier and more productive lives by expanding food access and availability.
By helping people identify their own unique resources, knowledge and skills, our efforts create long-term agricultural strategies that will help families feed themselves while protecting the environment. Our work also includes:
Providing tools, seeds and training to support small-scale and family farms
Giving families and communities healthy animals to help work land and generate other forms of income
Improving nutrition and diversifying the types of crops that families grow, sell and eat
Training farmers in agricultural techniques that increase overall food production
Helping communities embrace sustainable agriculture and environmentally sound practices that improve soil quality and help crops flourish

What's in Your Toolkit
There are many ways you can go out and make a difference.  Here are all the individual tools you'll need to spread the word about this important work.  All the materials are free. We welcome you to access them as you encourage your community to invest in our vital mission.  Thank you!
Episcopal Relief & Development History Overview
75th Anniversary Celebration and Campaign Overview
Guide to Planning Celebration Efforts in Your Parish, Diocese, Episcopal Group
Ideas for Fundraising and Getting Involved
75th Anniversary Gift Packages for Churches
Frequently Asked Questions: Agriculture
Frequently Asked Questions: Asset-Based Community Development
Frequently Asked Questions: Episcopal Relief & Development Organization
Bulletin Insert – Fast to Feed
Order: 75th Anniversary Timeline Brochure
Order: 75th Anniversary Campaign Donation Envelopes
Order: 75th Anniversary Hope Chest
Prayers of the People – Short
Prayers of the People – Expanded
Dismissal
Formal Preface
Collect for the 75th Anniversary
Create Your Own Personal Fundraising Page
Instructions for Setting Up Individual Fundraising Pages on Stay Classy
Christian Formation Materials for Youth on Hunger
Abundant Life Garden Project for Children
Video: Episcopal Relief & Development General – Long
Video: Episcopal Relief & Development General – Short
Video: Episcopal Relief & Development in Spanish
Video: I Believe Together We Can Heal A Hurting World
Video: General Agriculture
Video: Raising Goats in the Philippines
Story: Planting Hope in Nicaragua
Story: Mobilizing Local…Microorganisms? in Myanmar
Download: 75th Anniversary Graphic – Color
Display Board
Display Board Example Image
Download: 75th Anniversary Graphic – Black & White
Download: Episcopal Relief & Development Logo – Color
Program Photos
Fast to Feed Stickers
75th Anniversary Sticker Instructions

Questions?  Email us or call 855.312.HEAL (4325).