Namibia
Episcopal Relief & Development works with the Namibia Anglican Community Development Organization (NACDO) to increase economic stability and improve lives in communities impacted by HIV/AIDS, income inequality and other challenges.
One way the organizations do this is through savings groups. These groups enable participants to build up funds that can keep their business growing after their loans are fully repaid. Empowering, economically and personally, people living with HIV/AIDS is essential in strengthening relationships and the community as a whole. Since 2016, the organizations have launched 188 new savings groups. These groups are given educational opportunities for building entrepreneurial skills and health and social development. With this knowledge and skill set, group members will be better equipped to save money, open and improve their businesses, and will form more cohesive communities as well as live healthier lives.
In 2020,  NACDO is forming 69 new savings groups and continuing to monitor and support continuing groups. In addition, NACDO is beginning to integrate Early Childhood Development (ECD) as a pilot in the existing SwE work through the Moments That Matter (MTM) program partnership. As part of the preparation, NACDO undertook a peer exchange/learning visit to ADS-Nyanza (one of Episcopal Relief & Development's partners that is already implementing MTM) in February to see and learn about the ECD work. NACDO gained knowledge and skills from the peer exchange which will be applied to the MTM rollout in Namibia. In addition, NACDO has prior experience in working with kindergarten teachers and children as well as HIV/AIDS programming which would be helpful in the integration of ECD into their existing program. 
In response to COVID-19, with support from Episcopal Relief & Development, NACDO is supporting their savings groups to motivate them to continue safely engaging in their economic empowerment initiatives. NACDO supplied the 192 groups with hand-washing equipment, reusable face masks, hand sanitizers and soaps. Additionally, their regional coordinators and field facilitators have been provided data packages to ensure continuity of work.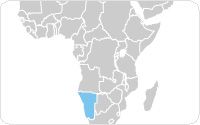 Women
Our work with Women focuses on helping communities promote the rights of women and children and move toward the vision that everyone deserves a life free from violence in a society where they are treated with dignity and respect. Only then can communities truly heal and thrive.
Children
Our work with Children supports and protects kids under six so they reach appropriate health
and developmental milestones. This focus on early development is foundational and critical to
helping children achieve their full potential as future contributing members of their communities.
Our micro-finance programs emphasize involving both women and men, which can be very effective in promoting gender awareness and empowering women. When women become breadwinners, they increase their role in household decision-making, which often enhances the whole family's well-being. Read more about Micro-finance.
Read more about Micro-finance
Donation
TO THE ECONOMIC OPPORTUNITIES FUND