Colombia
Episcopal Relief & Development is working with Trinity Foundation, an agency of the Diocese of Colombia, to implement microfinance programming targeting women living in poverty and other fragile contexts.  
Through the program, women learn to form savings groups that serve as  a platform for solidarity and economic empowerment. Newly formed groups learn about savings and lending principles and engage in saving and lending with a self-governing body of members.  As groups mature, members participate in greater discussions on financial and business management.  All savings groups, new and mature, additionally engage in social discussions including the prevention of gender-based violence at the household and community level. 
The program gathered momentum in 2012 and has had particular success with expanding its reach to indigenous Mizak communities in the mountains of Gambia and with engaging communities in Cartagena de las Indias and Ibague.  
Given the impact of COVID-19 on the program and participant livelihoods, Trinity Foundation is focused on strengthening and continuing support for its current groups in Silvia, Cartagena de las Indias, and Ibague. Savings groups with approximately 1,161 members are trained in financial and business management and the prevention of gender-based violence.  
In response to the COVID-19 pandemic's impact in Colombia, Episcopal Relief & Development is also funding emergency assistance to marginalized groups. Food, personal protective equipment (PPE) and other medical supplies have been distributed to groups who have been impacted by the national shutdowns and resulting loss of income.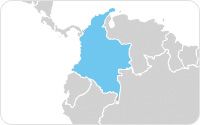 Women
Our work with Women focuses on helping communities promote the rights of women and children and move toward the vision that everyone deserves a life free from violence in a society where they are treated with dignity and respect. Only then can communities truly heal and thrive.
Children
Our work with Children supports and protects kids under six so they reach appropriate health and developmental milestones. This focus on early development is foundational and critical to helping children achieve their full potential as future contributing members of their communities.
Our micro-finance programs emphasize involving both women and men, which can be very effective in promoting gender awareness and empowering women. When women become breadwinners, they increase their role in household decision-making, which often enhances the whole family's well-being. Read more about Micro-finance.
Read more about Micro-finance
Donation
TO THE ECONOMIC OPPORTUNITIES FUND