Colombia
With 34 percent of the population living below the poverty level, Colombia's most vulnerable communities are severely in need of comprehensive support programs that generate sustainable economic growth and prevent the spread of disease.
Colombia has one of the largest gaps between rich and poor in the world, resulting in a social and economic exclusion that feeds unrest and instability. The chronic poverty prevalent throughout the country has led to high rates of child malnutrition, high incidences of HIV-AIDS, family disintegration, intra-familial violence, and a lack of income-earning opportunities. Additionally, decades of civil war in Colombia have caused the second-largest internal refugee crisis in the world, with approximately 3 million internally displaced people.
To counteract the effects of inequality and marginalization, Episcopal Relief & Development and Fundación Trinity (the humanitarian wing of the Episcopal Church in Colombia) are partnering to offer microfinance opportunities to women living in fragile contexts and extreme poverty. Through the program, women form savings groups that provide a platform for solidarity and economic empowerment, as well as discussions on financial and business management and prevention of gender-based violence (GBV). Fundación Trinity also provides micro-loans to mature groups to create or expand small businesses for income generation. 
The program has a target of 20 new savings groups to be formed in 2019 and will continue to support 104 groups from 2017 and 2018 reaching over 2,000 people.  The microcredit program will provide microloans to 40 people increasing their access to create and investment opportunities meant to increase income generation from their small businesses. Trinity Foundation is also exploring a model for savings and loan cooperative formation in Bogota, Cartagena, Guambia and Ibague increasing the capacity of 50 savings group members to increase their ability to save, earn dividends and access credit.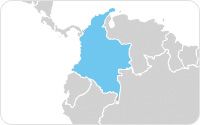 Women
Our work with Women focuses on helping communities promote the rights of women and children and move toward the vision that everyone deserves a life free from violence in a society where they are treated with dignity and respect. Only then can communities truly heal and thrive.
Children
Our work with Children supports and protects kids under six so they reach appropriate health
and developmental milestones. This focus on early development is foundational and critical to
helping children achieve their full potential as future contributing members of their communities.
Our micro-finance programs emphasize involving both women and men, which can be very effective in promoting gender awareness and empowering women. When women become breadwinners, they increase their role in household decision-making, which often enhances the whole family's well-being. Read more about Micro-finance.
Read more about Micro-finance
Donation
TO THE ECONOMIC OPPORTUNITIES FUND