Nicaragua
Almost half of Nicaragua's workforce is unemployed, and 30% of the population lives below the poverty line. Additionally, 30% of the rural population lacks access to clean water, and 45% have no sanitary latrine, making waterborne disease a challenge for many.
Political unrest, isolation and natural disasters have hindered development in rural Nicaragua, resulting in chronic poverty, hunger and a lack of public infrastructure.  Approximately one-third of the country's rural population lacks access to clean water, and two-thirds lack adequate sanitation facilities.
In partnership with two local organizations, Episcopal Relief & Development is empowering communities to improve food supply and prevent waterborne disease.

Together with the Council of Protestant Churches of Nicaragua (CEPAD), we work with local farmers to increase the diversity of their crops and produce natural fertilizers and pesticides that protect the land and water from pollution. The agro-ecological techniques applied through the program increase food production and reduce the impact on the soil. Planting trees and constructing land ridges and ditches also improves soil quality and reduces erosion, and constructing micro-dams to harvest rainwater enables production during dry seasons. Participants share their knowledge with others and promote sustainable practices by using their land to demonstrate the success of the new techniques. The program empowers women to nourish their families by planting small kitchen gardens with a variety of vegetables and produce, and a group of plantain farmers is expanding their operation through business training and micro-finance loans.
We also work through our partner El Porvenir to increase access to clean water and reduce waterborne disease. Communities organize water committees and engage residents in constructing and maintaining water systems, with materials and training as needed from El Porvenir. Wells, latrines and handwashing stations are installed at schools and residential areas, with health and hygiene education to promote their use. Digging wells near clusters of homes prevents disease and saves time, effort and risk for women and girls, who are most often responsible for fetching water. El Porvenir also works with communities to plant trees to protect natural watersheds and improve the environment.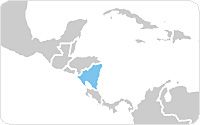 Women
Our work with Women focuses on helping communities promote the rights of women and children and move toward the vision that everyone deserves a life free from violence in a society where they are treated with dignity and respect. Only then can communities truly heal and thrive.
Children
Our work with Children supports and protects kids under six so they reach appropriate health
and developmental milestones. This focus on early development is foundational and critical to
helping children achieve their full potential as future contributing members of their communities.
Climate
Our Climate-related work focuses on how families and communities can work
together to adapt to the effects of rapidly changing weather patterns. This work includes
preparing for and recovering from climate-influenced events such as floods, hurricanes and other disasters.