Malaria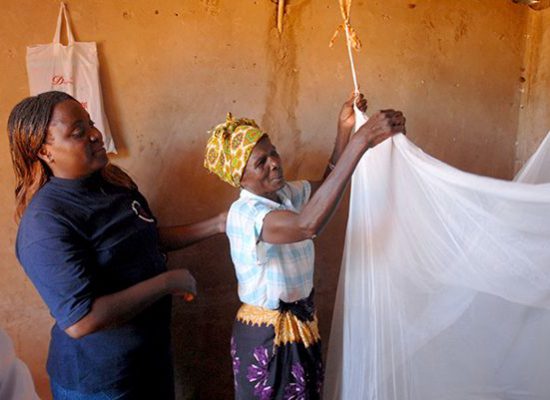 Malaria is one of the most common causes of illness and death across sub-Saharan Africa, and children under five are especially vulnerable – they account for half of all malaria deaths annually. Even though gains have been made through education and net distribution programs such as NetsforLife®, millions of lives are still at risk.
Because nearly all malaria deaths occur in countries where financial resources are scarce, the solution must depend on other resources such as caring, committed volunteers and low-cost interventions like Long-Lasting Insecticidal Nets (LLINs) and Rapid Diagnostic Testing (RDT). Working with local government and skilled health workers to promote a culture of using nets and seeking treatment, NetsforLife®is strengthening communities to stop the spread of malaria and bringing hope to millions of people.
---

10 YEARS OF EMPOWERING COMMUNITIES TO SAFEGUARD THEIR HEALTH
A Flagship Program and Model
Since 2006, Episcopal Relief & Development has been investing in a malaria-free future through its award-winning, flagship NetsforLife® malaria prevention program. NetsforLife® is a unique partnership of corporations, foundations, non-governmental groups and faith-based organizations collaborating with National Malaria Control Programs in all participating countries to develop innovative and results-oriented approaches to save lives.
NetsforLife® empowers communities to fight malaria by raising awareness, providing life-saving education and promoting the use of Long-Lasting Insecticidal Nets (LLINs) in homes. The program trains volunteers as Malaria Control Agents, equipping them to educate their communities about proper net use and maintenance. The ongoing monitoring and evaluation efforts of these volunteers helps to instill a net culture – a community-wide understanding of the protective value of nets, ways to to prevent malaria and when to seek effective medical treatment.
Involving local faith leaders and volunteers is vital for success, harnessing the 'power of the pulpit' and influence of faith leaders to communicate about malaria prevention and initiate change.
---
Watch the latest video about the NetsforLife® Program
---
Demonstrating NetsforLife® Impact
Program results from 17 countries throughout sub-Saharan Africa show NetsforLife® has grown from 2006-2015:
Distributed 22,025,978 Long-Lasting Insecticidal Nets (LLINs)
Reached 41,726,540 people with malaria education
Trained 111,000 volunteers and government health workers
Saved lives of 112,235 children under 5
Influenced net distribution policy in five countries – Angola, Ghana, Liberia, Sierra Leone and Zambia
---
Expanding to an Integrated Health Model
In order to care for the holistic health needs of remote communities, NetsforLife® has successfully implemented the integrated Community Case Management (iCCM) methodology in several pilot countries to reduce sickness and death from diarrhea, pneumonia and malaria (together, these three account for half of child deaths in many countries). iCCM equips volunteers with advanced training and supplies to diagnose, test and treat these diseases at the community level and refer complicated cases to health facilities. These advanced volunteers, known as Community Health Workers (CHWs), are the hands and feet of the integrated health program, reaching millions of people each year and supporting health facilities in saving lives. Ongoing community education and behavior change are integral to this work.
In some countries, such as Angola, Episcopal Relief & Development's integrated intervention also supports clean water as well as sanitation and hygiene programs by providing education, access to safe drinking water and improved sanitation facilities.
Frequently Asked Questions about NetsforLife® and Malaria
2015 World Malaria Day Infographic

Prevention saves lives. Working with local church partners, we are providing life-saving nets and promoting awareness within communities. Advance the cause — and join us in the fight against malaria. Buy nets and save lives by making a gift today.