Coloring Book

Color Our World
Are you looking for a resource to engage your congregation with Episcopal Relief & Development's work? Look no further! This coloring book, Color Our World, is the perfect tool to use in Sunday School classes and VBS programs, and can also be used in small groups with adults. 
Color Our World highlights Episcopal Relief & Development's Early Childhood Development work in countries like Kenya, Zambia, Ghana, Malawi and Mozambique. As you color in the pages, you see firsthand how partners in the field teach communities about the importance of physical, social, emotional and cognitive development in children because the pages featured in the book are actual FAMA cards used by partners in the field. FAMA stands for Facts, Associations, Meaning, Action and refers to the way that partners help guide communities to speak about specific Early Childhood Development issues. In the photo above, from Ghana, you can see the FAMA cards from this coloring book being used in the field to teach Early Childhood Development best practices. 
Below are digital copies of the coloring book available for download. For more ideas on how to share the coloring book with your community and information about how our programs have adapted during COVID-19, read this letter from the editor. And don't forget to post your completed drawings to social media using #1000daysoflove. Enjoy Coloring Our World!
Color Our World (Full Coloring Book)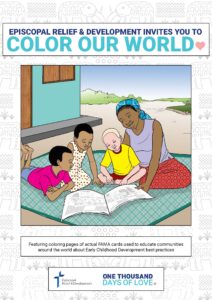 Color Our World (FAMA Drawings)
Color Our World (Other Drawings)
Please enjoy coloring in drawings from Episcopal Relief & Development's other priorities included in the coloring book. These illustrations were created by Portia Monberg and are not part of the FAMA illustrations previously described.