Kenya
Report Summary: Five-Year Report on Early Childhood Development Program
Case Study: Kenya | Integrated Economic Empowerment
The prevalence of HIV/AIDS in Kenya is a critical issue which significantly hinders the country's ability to develop sustainably. This problem, combined with the difficulty of small-scale agriculture to produce enough output, have made poverty and hunger widespread throughout the country.
Kenya has faced severe recurring drought at the same time as rapid population expansion, leading to scarcity of both food and paying work. In addition, preventable diseases such as malaria and HIV/AIDS affect millions of people with children under the age of three especially vulnerable.
In southwest Kenya, Episcopal Relief & Development is partnering with the Anglican Development Services of Nyanza (ADS-Nyanza), the humanitarian organization of four Anglican dioceses in the region. ADS-Nyanza has an integrated economic empowerment program which aims to improve health, food security, livelihoods and early childhood development among rural families. In 2014, ADS-Nyanza introduced early childhood development (ECD) activities focusing on building parenting skills of caregivers and equipping teachers in ECD centers with the knowledge they need to support children in reaching their developmental milestones. Most recently, the partnership has expanded its focus to support expectant mothers and caregivers with children under three.

The program focuses on ensuring child survival and working with trained local volunteers and government health workers to promote child and maternal health, support early cognitive development and prevent and treat diseases such as malaria, diarrhea and pneumonia—the three leading causes of death for children under five. The program uses the Integrated Community Case Management (iCCM) model with Social Behavioral Change Communication (SBCC) strategies to encourage families to adopt good health and hygiene practices and seek appropriate medical treatment when needed. The Mother2Mother support groups specifically reach out to women who are HIV-positive with children up to 18 months old.

A 2017 grant from the Conrad N. Hilton Foundation supports vulnerable children and families participating in the Kisumu County, Moments that Matter,  integrated Early Childhood Development program, which trains volunteers, including faith leaders, to engage  400 parents or relatives in behavior change in nurturing care, stimulation and positive parenting combined with maternal and child health and family livelihoods programming.
Enabling families to invest in income-generation activities and household well-being, ADS-Nyanza supports the formation of Savings with Education groups that empower members to build up their own savings,  access loans funds for investment in agriculture and small businesses, and build their financial and business management skills. Savings groups are also exploring Community-Based Health Financing to make health care costs more manageable and increase access and use of local services. Savings groups and health financing activities specifically engage people living with HIV/AIDS, who face greater vulnerability and higher costs for ongoing care.
Along with established annual goals, in 2018 the ADS-Nyanza program is aiming to reach new levels of impact in a variety of its activities. The objective has been set to increase the income levels of 1,600 farmers by at least 15% through improved crop and livestock production. Also, 6,000 new members will be given the opportunity to save, access credit, and cope with financial shocks through the formation of 144 community-based savings groups. Additionally, the program will increase access to quality health care for at least 2,000 people representing approximately 400 households and will increase the knowledge and skills of 3,601 primary caregivers on disease prevention for illnesses like malaria, diarrhea, pneumonia and HIV /AIDS. An additional 2,782 mothers and primary caregivers will be provided training for improved early childhood care knowledge and skills.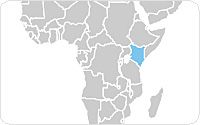 Women
Our work with Women focuses on helping communities promote the rights of women and children and move toward the vision that everyone deserves a life free from violence in a society where they are treated with dignity and respect. Only then can communities truly heal and thrive.
Children
Our work with Children supports and protects kids under six so they reach appropriate health and developmental milestones. This focus on early development is foundational and critical to helping children achieve their full potential as future contributing members of their communities.
Climate
Our Climate-related work focuses on how families and communities can work together to adapt to the effects of rapidly changing weather patterns. This work includes preparing for and recovering from climate-influenced events such as floods, hurricanes and other disasters.
Over 300,000 women worldwide die each year from preventable causes related to pregnancy and childbirth. Millions of infants die in their first few weeks of life – many of them also from preventable conditions. Prenatal care and monitoring health of expectant and new mothers and their children reduces illness and saves lives. Read more about Maternal and Child Health.
Read more about Maternal & Child Health
Our micro-finance programs emphasize involving both women and men, which can be very effective in promoting gender awareness and empowering women. When women become breadwinners, they increase their role in household decision-making, which often enhances the whole family's well-being. Read more about Micro-finance.
Read more about Micro-finance
Donation
TO THE ECONOMIC OPPORTUNITIES FUND