Kenya
Report Summary: Five-Year Report on Early Childhood Development Program
Case Study: Kenya | Integrated Economic Empowerment
In southwest Kenya, Episcopal Relief & Development has partnered with the Anglican Development Services of Nyanza (ADS-Nyanza), the humanitarian organization of five Anglican dioceses in the region, since 2005. 
ADS-Nyanza has implemented an integrated resilience program that aims to improve health, food security and climate-resilient agriculture, livelihoods, economic development and early childhood development among rural families.
ADS-Nyanza is working to promote resilience to the changing climate through trainings on climate-resilient crops, renewable energy and soil and water conservation. The program also focuses on economic development through the support of farmers, women, primary caregivers and other vulnerable groups. Members of savings groups save, access credit, build relationships among each other and cope with financial shocks through savings groups. 
A 2017 grant from the Conrad N. Hilton Foundation and 2019 grants from Episcopal Health Foundation and Grand Challenges Canada support vulnerable children and over 2,000 families participating in Moments That Matter®, an integrated early childhood development program partnership with Episcopal Relief & Development in Kisumu, Siaya and Homa Bay Counties in Kenya. Moments That Matter® (MTM) trains local volunteers, including faith leaders, to equip primary caregivers and fathers with skills to help their children reach their full developmental potential.
Additionally, MTM increases access to quality health care through subscription to the national health insurance for at least 5,000 individuals and increases the knowledge and skills on disease prevention for illnesses like malaria, diarrhea, pneumonia and HIV/AIDS through monthly training to caregivers. 
In response to the coronavirus pandemic, ADS-Nyanza is working with the Kenya Government Ministry of Health, Episcopal Relief & Development and other organizations on the prevention, control and home management of COVID-19. ADS-Nyanza equipped volunteers with personal protective equipment and provided handwashing facilities in strategic social places. Additionally, the dioceses is supporting contact tracing in several counties to help reduce the spread of the coronavirus.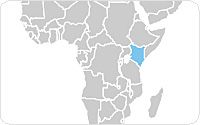 Women
Our work with Women focuses on helping communities promote the rights of women and children and move toward the vision that everyone deserves a life free from violence in a society where they are treated with dignity and respect. Only then can communities truly heal and thrive.
Children
Our work with Children supports and protects kids under six so they reach appropriate health and developmental milestones. This focus on early development is foundational and critical to helping children achieve their full potential as future contributing members of their communities.
Climate
Our Climate-related work focuses on how families and communities can work together to adapt to the effects of rapidly changing weather patterns. This work includes preparing for and recovering from climate-influenced events such as floods, hurricanes and other disasters.
Over 300,000 women worldwide die each year from preventable causes related to pregnancy and childbirth. Millions of infants die in their first few weeks of life – many of them also from preventable conditions. Prenatal care and monitoring health of expectant and new mothers and their children reduces illness and saves lives. Read more about Maternal and Child Health.
Read more about Maternal & Child Health
Our micro-finance programs emphasize involving both women and men, which can be very effective in promoting gender awareness and empowering women. When women become breadwinners, they increase their role in household decision-making, which often enhances the whole family's well-being. Read more about Micro-finance.
Read more about Micro-finance
Donation
TO THE ECONOMIC OPPORTUNITIES FUND