El Salvador
Episcopal Relief & Development partners with the Episcopal Diocese of El Salvador to support vulnerable communities. This integrated recovery and development program focuses on primary health, trauma awareness and resilience, agriculture and the environment, economic empowerment and disaster risk reduction.
The partnership addresses primary health care through activities such as community health education, medical, dental health services, health promoter training and health systems strengthening. Annual extended medical outreaches are carried out in collaboration with Mission Of Miracles, a US-based non profit organization. Additionally, a mobile clinic program trains community health promoters on wellness topics and provides high-quality, affordable medical and dental services in hard-to-reach communities.
The program's food security activities take place in 11 communities and focus mostly on agricultural training, reforestation, and growing fruit trees, vegetables and grains. Additional training in conservation and soil improvement are also a part of the project, in particular through a youth club with agricultural training education.  
The trauma awareness and resilience aspect of this partnership provides participants with the tools to identify and understand the impact of trauma on the body, brain, beliefs and behavior of both individuals and communities. It facilitates healing  with the tools and practices for addressing trauma and breaking the cycles of violence in their own lives. 
Finally, in order to empower families to invest in health, agriculture and other endeavors, the partnership supports savings groups to learn financial literacy and business skills. The savings group program makes education on gender-equity a top priority and provides the tools for many families to improve their own household's economic situations. The groups save money and lend to themselves at interest rates set by themselves.
In response to the COVID-19 pandemic, and with the support of Episcopal Relief & Development, the Diocese of El Salvador has distributed baskets of food such as beans, rice, sugar, oil and milk to over 1000 households. The diocese is also providing personal protective items like face masks and alcohol-based hand sanitizers for this disaster response and in its long-term development programming. Community promoters and volunteers have been given gloves and infrared thermometers to help protect them and reduce the spread of the coronavirus.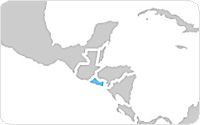 Women
Our work with Women focuses on helping communities promote the rights of women and children and move toward the vision that everyone deserves a life free from violence in a society where they are treated with dignity and respect. Only then can communities truly heal and thrive.
Children
Our work with Children supports and protects kids under six so they reach appropriate health and developmental milestones. This focus on early development is foundational and critical to helping children achieve their full potential as future contributing members of their communities.
Climate
Our Climate-related work focuses on how families and communities can work together to adapt to the effects of rapidly changing weather patterns. This work includes preparing for and recovering from climate-influenced events such as floods, hurricanes and other disasters.