Helping in Time of Disaster
In the midst of the COVID-19 pandemic, helping out during a disaster is especially complex. Further complicating the rescue and relief phases of a disaster, an already immobilizing period of time with challenges such as loss of power and water and impassable roadways, the pandemic is causing leaders to make each choice through the lens of mitigating the spread of disease. 
We strongly ask churches and individuals to not self-deploy or to begin gathering in-kind donations to send to impacted communities. Please understand that during this pandemic, it is unsafe to have people gather together to sort through donations. Hotel rooms and church spaces are already in use, and so out-of-town visitors coming in before the community is ready, takes away resources from the people who need them the most. 
Please continue reading to understand more about the phases of a disaster, keeping in mind that during the COVID-19 pandemic, progressing to the next stage will take longer and will require careful planning to prevent the spread of disease.
---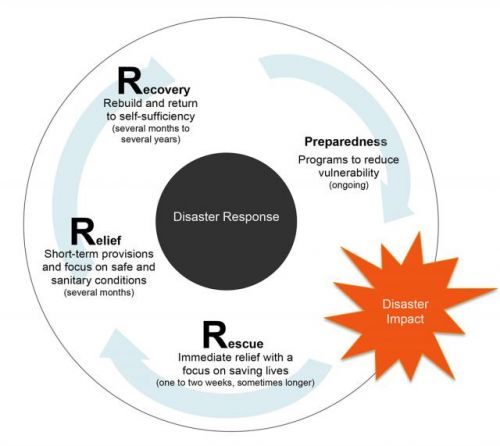 Disasters prompt our desire to help in some way. When we see images of people suffering, we want to do something.
The tricky part is responding in a way that is actually helpful and appropriate. It's essential to wait for the people who have been directly affected by the disaster to take the lead in indicating what they need and when they need it.
Understanding the phases of a disaster can be very helpful in determining how you can help.
Most disasters have three distinct, if sometimes overlapping phases: Rescue, Relief and Recovery. Preparedness should be ongoing.
Phase 1 – Rescue
The Rescue phase is focused on saving lives and securing property, and is most acute in those parts of a region that, for example, are directly flooded or destroyed by fires. This work is generally done by the police, fire departments and other government agencies. These groups have equipment that can clear roads and debris, as well as large specialized operations with mass distribution systems and strategically positioned warehouses. The Rescue phase can take one to two weeks, sometimes longer.
Phase 2 – Relief
The next phase is the Relief phase, when the focus turns to creating short-term safe and sanitary conditions. The local church is often one of the first places people go to seek assistance and shelter during this phase. Depending on the scale of the disaster, the diocese(s) and their ministries are reaching out to those in need of assistance, and assessing what needs to be done. They are then coordinating with any number of organizations, such as Episcopal Relief & Development, and securing the resources for the long-term Recovery phase. The Relief phase typically lasts a few months.
In disasters that cause severe damage to homes and other infrastructure, communities might need financial support or volunteers to assist in rebuilding, but sometimes not right away. Again, the best approach is to wait until those affected have indicated what kind of support is most needed and whether they are ready to house and utilize volunteers. Inserting ourselves at the appropriate time alleviates additional stress and complications that can actually make things worse.
Donate Money
If you are NOT in an impacted area and are reading this, we recommend providing monetary donations over supplies and clothes. Here's a great article about the challenges of communities receiving donated clothes: https://n.pr/2QPpakl
Contributing to Episcopal Relief & Development makes helping in time of disaster easy – we work with impacted dioceses, congregations and communities to assess what's needed and when, in order to best support the most vulnerable people impacted by disasters.
Phase 3 – Recovery
Eventually, we get to the third and final phase: Recovery. During recovery the emphasis shifts to restoring services, repairing houses and buildings, returning individuals to self-sufficiency and rebuilding communities. The challenge of the Recovery phase is that most of the television cameras have moved on, but the human suffering has grown. It is a chronic state, not a crisis. However, it is the phase that the Church excels in, because we are part of the communities that have been impacted, can best identify needs and work with the community to address them.
Effective response requires us to discern what is most helpful and appropriate at any given time, and to continue to hold those directly impacted in our hearts throughout their recovery, long after the media images fade.
---
Preparedness
In the wake of disaster we often ask ourselves, 'What if this happened to me, my family or my community?'. Fortunately, there are steps that you can take to foster some peace of mind. According to FEMA and the American Red Cross, there are three basic things you can do that will make a big difference in ensuring safety for yourself and your family in time of disaster: make a plan, be informed and prepare a kit.
1. Make a plan: Encourage family members to memorize the phone number of the person you would call in an emergency, and keep copies of the number in your wallets as well.  We often store those numbers in cell phones, which aren't always functioning or available after a disaster. Talk through what you would do after a sudden event – where would you meet? Who would you contact?
2. Be informed: how can you quickly get accurate information about what's happening? For example, identify agencies that send out local text alerts and sign up for the service. You also may want to buy a radio to use during emergencies.
3. Prepare a kit: The three basic things to have on-hand are a three-day supply of water (one gallon per person per day), food (non-perishable items) and cash (including small denominations and keep your plan fresh in your mind by regularly talking through it with family members and practicing it. Consider inquiring about emergency plans for other places that you and your loved ones spend time, especially schools, workplaces and nursing homes.
For more information and tips on how to be prepared for a potential disaster, download preparedness kit checklists from episcopalrelief.org/whyprepare and visit episcopalrelief.org/preparedness. These items can also be found in our Resource Library.