Zambia
Report Summary: Five-Year Report on Early Childhood Development Program
Case Study: Zambia | Early Childhood Development
Poverty is widespread in Zambia – over 60% of the total population lives below the poverty line, with the rate increasing to over 80% in rural areas. Without sufficient income, many lack the means to reach basic food requirements.
An estimated 64% of Zambians are living in poverty. HIV/AIDS prevalence in Zambia is high at 12.4% with 1.2 million people living with HIV/AIDS. Zambia has one of the highest incidences of malaria-related deaths in the world.
Episcopal Relief & Development partners with the Zambia Anglican Council Outreach Programs (ZACOP) to facilitate community transformation so that young children survive and thrive while facing the challenges of poverty and HIV/AIDS.
Through integrated programming, ZACOP and Episcopal Relief & Development are providing critical care and support for vulnerable families with young children. The program focuses on strengthening the role of parents and primary caregivers in nurturing care and stimulation of their children while supporting families to improve health, nutrition and livelihoods.
ZACOP's integrated rural program is based in local churches and schools serving as Early Childhood Development Centers. The Early Childhood Development (ECD) program, Moments That Matter, a program partnership of Episcopal Relief & Development, is supported in part by the Conrad N. Hilton Foundation, the Episcopal Health Foundation, Grand Challenges Canada and other donations. Between 2012 and 2017, MTM reached over 15,000 families in Zambia. The program expects to reach an additional 7,200 families between 2018 and 2021.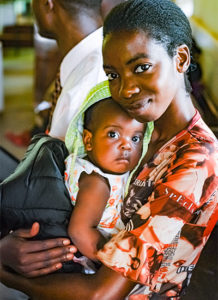 The MTM program leverages the assets of the Church nationally and locally, focusing on young children's cognitive, psychosocial and physical development. Trained ECD volunteers facilitate support and learning groups for caregivers and playgroups for children, make monthly home visits and provide referrals to needed services. The program succeeds in helping caregivers and communities so that young children can thrive in rural areas, serving as a catalyst for community organizing and development in marginalized areas. The MTM Program also addresses the importance of fathers' engagement with children in their development, noting the evidence of adverse consequences when they are not involved
Caregiver learning and support groups are the hub for diverse activities, including education about child health and nutrition and the importance of clean water, sanitation and hygiene. The groups include a Savings with Education component where participants are able to build up personal funds to invest in their children's health and education. Participants are also able to access training and seeds for constructing household gardens to improve household nutrition and diet diversity.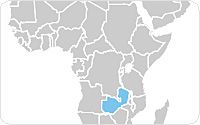 Women
Our work with Women focuses on helping communities promote the rights of women and children and move toward the vision that everyone deserves a life free from violence in a society where they are treated with dignity and respect. Only then can communities truly heal and thrive.
Children
Our work with Children supports and protects kids under six so they reach appropriate health and developmental milestones. This focus on early development is foundational and critical to helping children achieve their full potential as future contributing members of their communities.