Sri Lanka
Case Study: Sri Lanka | Disaster Risk Reduction
Episcopal Relief & Development began a partnership with the Geneva-based Ecumenical Church Loan Fund (ECLOF) in response to the tsunami and in particular to support income generation activities in tsunami-affected and other marginalized areas. By offering microfinance services through self-help and Savings with Education (SwE) groups, ECLOF Lanka enables people to build their personal savings, invest in small business endeavors and earn an income to support their families and rebuild their lives.
Over 95% of participants are women, who are able to gain social standing and a voice in decision-making as they contribute to household income. A total of 194 savings groups engage 3,880 members to improve their entrepreneurship and business training, increase their savings, and achieve better livelihoods for themselves and for their families.
Working with the Anglican Diocese of Colombo, Episcopal Relief & Development also supports is supporting efforts to build collaborative communities in the aftermath of decades of political conflict activities to equip and. Activities include training for community-led development and conflict resolution, empowering women and war-affected individuals through micro-finance and psychosocial support.
Finally, Episcopal Relief & Development partners with the Anglican Diocese of Colombo on a comprehensive disaster management and preparedness strategy. The Diocese of Colombo trains staff and clergy within the diocese to create disaster preparedness plans and engage their communities in building resilience and minimizing risk. he Diocese also works with the ecumenical National Christian Council of Sri Lanka (NCCSL) to equip other denominational leaders with knowledge and tools that help communities to prepare for and respond to disasters. The ecumenical effort includes a clean water program in Anuradhapura and an environmental project in Jaffna.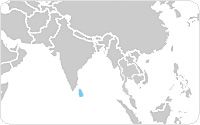 Women
Our work with Women focuses on helping communities promote the rights of women and children and move toward the vision that everyone deserves a life free from violence in a society where they are treated with dignity and respect. Only then can communities truly heal and thrive.
Climate
Our Climate-related work focuses on how families and communities can work together to adapt to the effects of rapidly changing weather patterns. This work includes preparing for and recovering from climate-influenced events such as floods, hurricanes and other disasters.
Planning ahead for disasters can go far in minimizing their potential impact – especially for people already facing poverty, who may lose their few assets or safety nets. To this end, Episcopal Relief & Development is partnering with the Episcopal/Anglican Church to better prepare for and respond to disasters. Read more about Disaster Risk Reduction.
Read more about Disaster Resilience
Our micro-finance programs emphasize involving both women and men, which can be very effective in promoting gender awareness and empowering women. When women become breadwinners, they increase their role in household decision-making, which often enhances the whole family's well-being. Read more about Micro-finance.
Read more about Micro-finance
Donation
TO THE ECONOMIC OPPORTUNITIES FUND
Gender equality, women's empowerment and gender-based violence (GBV) prevention and response are cross-cutting themes that shape and inform all of Episcopal Relief & Development's integrated programs worldwide. In order to sustainably and equitably address hunger, poverty, disease and post-disaster relief and recovery, local attitudes and customs around gender, power and gender-based violence must also be taken into account.
Read more about Gender Equality & GBV