Burundi
In partnership with the Province of the Anglican Church of Burundi (PEAB), Episcopal Relief & Development supports an integrated, multi-sector development program that focuses on improved agriculture, environmental protection, prevention of violence against women and children (VAWC) and economic empowerment via savings groups, for holistic transformation of communities. 
To increase food security while conserving natural resources, communities in Burundi are using farming techniques such as building contour trenches and planting trees on and off farms. As part of this program, farmers learn about composting, improved crop varieties, tree nurseries and other practices that enrich their livelihoods and environment. Since 2013, approximately 4,690,000 trees have been planted by and in program communities in conjunction with the Burundian Ministry of the Environment. 
People often join the program through the formation of literacy and savings circles, as the focus is on group solidarity, confidence-building and creating a vision for their individual and collective prosperity. Through these groups, program staff and community volunteers lead practical education sessions related to farming, VAWC prevention and response, HIV and malaria prevention, and functional and financial literacy.
The Church of Burundi has had a strong presence in national-level advocacy forums on violence against women, HIV/AIDS, family planning and other social development issues. At the same time, the program works to change destructive attitudes and behaviors related to gender and sexuality. The project also trains community volunteers on malaria prevention and response.
2020 is the third year of the Church's pilot integrated development program in all nine dioceses. The Church is focused this year on leveraging farmers, savings groups facilitators and gender-based violence prevention volunteers to deepen the program's impact in these areas. Staff plan to evaluate the program at the end of 2020, however, due to COVID-19, this may be adapted, with some activities postponed to 2021.
Episcopal Relief & Development is also supporting PEAB's response to the COVID-19 Pandemic Diocesan Mothers Union networks. The program educates rural communities about hygiene and sanitation best practices to reduce the spread of the novel coronavirus. It mobilizes networks of volunteers through phone trees and WhatsApp messages, raising awareness about the virus and emphasizing the need for communities to look out for their neighbors.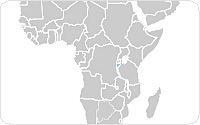 Women
Our work with Women focuses on helping communities promote the rights of women and children and move toward the vision that everyone deserves a life free from violence in a society where they are treated with dignity and respect. Only then can communities truly heal and thrive.
Climate
Our Climate-related work focuses on how families and communities can work
together to adapt to the effects of rapidly changing weather patterns. This work includes
preparing for and recovering from climate-influenced events such as floods, hurricanes and other disasters.