Angola
Episcopal Relief & Development is partnering with the Anglican Diocese of Angola on an integrated approach to tackle the most urgent health issues in Angola, including clean water and sanitation and infant mortality. Together from 2016 to 2020, we implemented a four-year water and sanitation program in Songo Municipality, Uige Province, supported in part by a $1.5 million grant from the United States Agency for International Development (USAID).
This program is known as Maza yi Moyo (Water is Life) in the Kikongo language. The purpose of the project was to improve community-managed water and public sanitation facilities and to promote household-adoption of improved sanitation and hygiene practices with the goal of reducing the frequency and severity of water and sanitation-related diseases, particularly in young children.
Over the last four years, the project team has succeeded in mobilizing and training local leaders in the establishment of Water and Sanitation Committees (WSC) in all 81 communities of the Songo Municipality and reaching over 48,026 people.  As of the end of 2019, community access to safe drinking water had risen from 32% to over 52% and household latrine availability increased to 68%. Maza yi Moyo mobilized and trained a network of 862 volunteers, including faith and local leaders, to empower communities to create and sustain management of 126 improved water sources and 23 public sanitation facilities. Through innovative social and behavior change communication techniques, the project motivated over 1,400 households to construct latrines and abstain from open defecation. 
The organization is also working with the Angola Mothers' Union to promote savings groups that increase women's access to financial resources, supporting the health and nutrition needs of their households. In 2020, this program is working to increase the savings and economic empowerment of 2,849 savings group members and to further integrate focused dialogue about the prevention of violence against women and children in the groups. 
Additionally, Episcopal Relief & Development has supported the diocese since 2017 in its efforts to strengthen the diocese's administration and operations. This support has enabled the diocese to complete a new Administration and Finance Policy and Procedures plan, to create a new strategic plan and to complete a new Human Resources Policies and Procedures Manual. Episcopal Relief & Development continues to work with the diocese to strengthen the institution through staff training and internal audit training.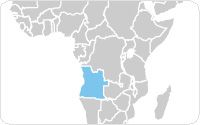 Women
Our work with Women focuses on helping communities promote the rights of women and children and move toward the vision that everyone deserves a life free from violence in a society where they are treated with dignity and respect. Only then can communities truly heal and thrive.
Children
Our work with Children supports and protects kids under six so they reach appropriate health and developmental milestones. This focus on early development is foundational and critical to helping children achieve their full potential as future contributing members of their communities.