Zimbabwe
Episcopal Relief & Development partners with the Anglican Diocese of Matabeleland on sustainable agriculture projects in areas where cyclical drought has stunted local food production and caused people to leave their communities to find work.
Working with caregivers of vulnerable children, the program assists with seeds, land preparation and water management to enable households to grow a variety of nutritious food. In some areas, clusters of households organize themselves to grow vegetables on a rotating basis to ensure year-round food availability that can withstand future droughts. Farmers visit each other's fields to learn successful strategies for planting and caring for the crops. Extra produce is sold at local markets, providing a source of income. A community revolving assets fund, which gives communities the opportunity to save money and fund small businesses, was established in 2018. The project created seed banks and nurseries, along with training in climate-smart farming methods and pest management, to further support sustainable food sources.
In 2020, the program is working with close to 12,000 farmers in order to increase their resilience and preparedness capacities to future drought hazards, and to strengthen their livelihoods and food production. This project will continue to train farmers in climate-smart agriculture and is launching a pilot watershed development program to improve drought resilience. Additionally, the diocese is deploying a bulk messaging platform to improve emergency preparedness and response capacities through communication notifications to an estimated 10,000 households.  
In light of COVID-19, the Diocese of Matabeleland has adapted its programming with physical distancing and other precautions to reduce the potential spread of the coronavirus.
We strive to facilitate healthier, more fulfilling lives in communities struggling with hunger, poverty, disaster and disease. Through our Asset-Based Community Development approach, we recognize existing gifts and resources in communities to create change from within. Our international partnerships allow us to work with people around the world to deliver life-improving results that can be sustained by the communities themselves.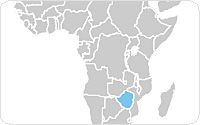 Children
Our work with Children supports and protects kids under six so they reach appropriate health and developmental milestones. This focus on early development is foundational and critical to helping children achieve their full potential as future contributing members of their communities.
Climate
Our Climate-related work focuses on how families and communities can work together to adapt to the effects of rapidly changing weather patterns. This work includes preparing for and recovering from climate-influenced events such as floods, hurricanes and other disasters.
Planning ahead for disasters can go far in minimizing their potential impact – especially for people already facing poverty, who may lose their few assets or safety nets. To this end, Episcopal Relief & Development is partnering with the Episcopal/Anglican Church to better prepare for and respond to disasters. Read more about Disaster Risk Reduction.
Read more about Disaster Resilience