Mozambique
Episcopal Relief & Development is partnering with two dioceses in Mozambique on strategies to address at the community level challenges such as public health, early childhood development and economic instability.
In the northern Diocese of Niassa, we are supporting Sal Luz Saude (SLS, or 'Salt Light Health") and Equipas de Vida ("Life Teams") in their efforts to improve public health in rural areas. Together, and in collaboration with local government, they mobilize and aid communities to address their own health and development needs. The establishment of Saving with Education (SwE) groups for health volunteers and other community members contribute to the sustainability of the program and to individuals' own economic empowerment.
In the southern Diocese of Lebombo, Episcopal Relief & Development is partnering with the diocesan relief and development agency, Anglican Social Action (ASA), to apply the Umoja ("Together we can") process for community-driven development through churches across the diocese. This asset-based process engages community members to identify local resources that can be mobilized to meet challenges and support growth.
In 2019, Episcopal Relief & Developments' program team will begin to integrate early childhood development into existing child health, nutrition and saving work in some communities of the Cobue sub-district. This will be done through the implementation of Moments That Matter, a program partnership of Episcopal Relief & Development supported in part by the Conrad N. Hilton Foundation, the Episcopal Health Foundation, Grand Challenges Canada and other donations. Early childhood development ensures that children reach their full potential. The first three years set a foundation for learning, behavior and health throughout a child's life.
Additionally, the ASA  has been partnering with Episcopal Relief & Development on a community development program aimed at empowering communities to relieve poverty and financial dependency, which will especially empower women to become financially independent.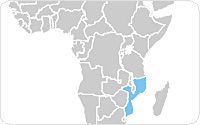 Women

Our work with Women focuses on helping communities promote the rights of women and children and move toward the vision that everyone deserves a life free from violence in a society where they are treated with dignity and respect. Only then can communities truly heal and thrive.

Children

Our work with Children supports and protects kids under six so they reach appropriate health and developmental milestones. This focus on early development is foundational and critical to helping children achieve their full potential as future contributing members of their communities.

Climate

Our Climate-related work focuses on how families and communities can work together to adapt to the effects of rapidly changing weather patterns. This work includes preparing for and recovering from climate-influenced events such as floods, hurricanes and other disasters.