Early Childhood Development
Children's early life forms the basis for future learning, good health and well-being. Integrated Early Childhood Development (ECD) programs ensure that children under six, particularly children under three, are reaching their cognitive, language, social, emotional and physical developmental milestones. Investing in children and their primary caregivers during this time can result in lifelong benefits.
The current program, Moments That Matter®, a program partnership of Episcopal Relief & Development, is supported by in part by funding from the Conrad N. Hilton Foundation, Grand Challenges Canada, the Episcopal Health Foundation and other donations to Episcopal Relief & Development. It addresses the needs of young children while equipping their caregivers and communities to support their healthy development. It leverages the assets of Episcopal and Anglican churches nationally and locally, with a dynamic network of local leaders and trained ECD Volunteers focusing on young children's cognitive, psychosocial and physical development.
Moments That Matter® built on lessons learned from the first phase in Zambia and drew from the Essential Package: Holistically Addressing the Needs of Young Vulnerable Children and Their Caregivers Affected by HIV and AIDS and other resources to create a two-part training curriculum for community ECD Volunteers and a separate training resource for Faith Leaders. Our vision is organized communities, strengthened families, empowered caregivers and children who are thriving.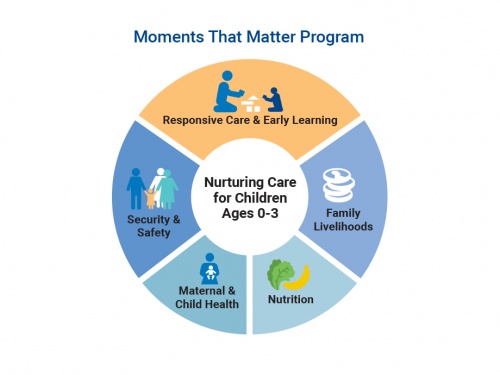 Participating communities have enthusiastically engaged with the program, with dedicated volunteers carrying out the activities, faith leaders supporting the program and spreading critical information on ECD, and collaborating organizations providing additional services.
In the video below we follow Catherine, an ECD volunteer in Zambia, as she conducts home visits and talks about her role in the Early Childhood Development program.
Moments That Matter® Impact Report 2018 – 2021
Moments That Matter® (MTM) is a community-based early childhood development and parenting empowerment program to improve the development, health, and economic outcomes for children aged 0-3. This 2018-2021 MTM Impact Report is a summary of the implementation research, which assessed Primary Caregivers's knowledge and behavioral changes to responsive care and early learning in Kenya and Zambia.
African Population and Health Resource Center: Endline Summary Report, August 2021
This 2019 endline evaluation summary report highlights findings of the impact, process and cost-effectiveness of the community-based parenting empowerment programs in Kenya and Zambia. The evaluation assessed if the program increased Primary Caregivers's adoption of high-impact behaviors to improve interactions with children, responsive care, early learning and safety and security.
Program Background
Episcopal Relief & Development and our partner, the Zambia Anglican Council Outreach Programmes (ZACOP), launched an integrated Early Childhood Development (ECD) program in 2012 for families affected by HIV/AIDS. In partnership with the Anglican Church of Kenya Development Services (ADS-Nyanza), the program was launched in Kenya in 2014. By 2021, the program expects to reach over 36,000 at-risk children under three and to expand to Ghana, Malawi and Mozambique.
Five Years of Amazing Results
Discover how the integrated Early Childhood Development (ECD) program in Zambia reached nearly 30,000 children in the first five years, working through local volunteers to empower and encourage caregivers and has been expanded into Kenya, Malawi and other countries.
Download the evaluation summary
Read the May 24, 2017 press release
Download the 2017 ECD Poster Presentation
Download this early childhood development case study