Haiti
Four out of five Haitians live below the poverty line and over half in extreme poverty. Additionally, natural disasters, such as the massively destructive January 2010 earthquake, make obtaining healthy livelihoods extremely difficult for many communities.
With 80% of its population living in poverty, Haiti is one of the most economically challenged countries in the world. The devastating earthquake that hit Haiti on January 12, 2010, greatly worsened existing issues. Together with our partners in Haiti, we provided emergency relief in the aftermath of the quake and continue to implement long-term development strategies to sustain Haiti's recovery into the future.

Prior to and in the years after the 2010 earthquake, Episcopal Relief & Development worked with the Episcopal Diocese of Haiti's development arm, CEDDISEC (Centre Diocésain de Développement Intégré et de Secours) on its community-based development and emergency response efforts. Currently, we are working with several church organizations and in partnership with IMA World Health to support programs that empower local congregations and advance Haiti's economic, education and health infrastructure.

After the 2010 earthquake, Episcopal Relief & Development initiated micro-credit programs to alleviate poverty, improve livelihoods and recover lost business and capital. In 2013, the Program of Credit and Savings of the Episcopal Church of Haiti (PROCREEH) was created as part of a new initiative to reinforce the autonomy of Haitian communities as leaders of their own socio-economic development.

Episcopal Relief & Development is also working with its partners to increase access to quality education and invest in a better future for Haiti. We partner with Haitian Youth Livelihood Initiative-IDEJEN to train young people in construction and hospitality and help them find jobs, seek additional training or return to formal education. We also support the Bishop Tharp Business and Technology Institute (BTI), a two-year school in Les Cayes whose graduates are able to find employment in fields such as banking, government administration and non-governmental organizations. We are also working with partners to rebuild and add new classrooms to primary schools in earthquake-impacted areas, and with IMA World Health to improve water and sanitation at the school level.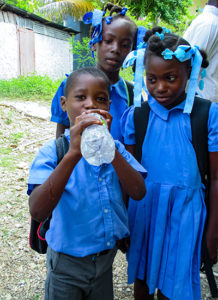 In Léogâne, closest to the epicenter of the 2010 quake, Episcopal Relief & Development has partnered with the Episcopal University of Haiti's Faculty of Nursing Science to invest in solar electricity to ensure the school can operate without interruption. Currently, we are also working with the university's school of agriculture to empower farmers to earn income and alleviate hunger in the area by improving access to quality seeds, teaching post-harvest management and helping farmers to process and market their products.
To address the lasting impact of the 2010 earthquake and societal stressors such as poverty and political instability, Episcopal Relief & Development is working in partnership with WOZO Haiti to train community facilitators in trauma healing and non-violent community problem solving. The overarching aim of the WOZO program is to support positive social change through empowerment, mutual support and collective action. Additionally, the WOZO program administers training in disaster preparedness and risk reduction which aims to reduce the damage from potential future natural disasters.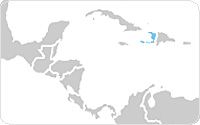 Children
Our work with Children supports and protects kids under six so they reach appropriate health
and developmental milestones. This focus on early development is foundational and critical to
helping children achieve their full potential as future contributing members of their communities.
Climate
Our Climate-related work focuses on how families and communities can work
together to adapt to the effects of rapidly changing weather patterns. This work includes
preparing for and recovering from climate-influenced events such as floods, hurricanes and other disasters.