Tanzania
Episcopal Relief & Development partners with the Anglican Diocese of Central Tanganyika's Development Services Company (DCT-DSC) to build climate-resilient communities. DCT-DSC's food and livelihood security program integrates drought resilient agriculture, improved crop storage, water resource development and microfinance for a holistic approach to supporting communities as they adapt to a changing climate. 
An important component of climate resilience is financial inclusion, especially of women and marginalized groups. DCT-DSC has implemented savings groups in rural communities with little to no access to banking. By providing an opportunity for people to build up personal savings, access small loans and learn about business development, the savings group help buffer some of the risk that remote farming communities face. Savings group members are primarily women, who often use their savings to feed their families and invest in their children's education.
Since 2015, DCT-DSC's integrated program has directly improved the lives of 4500 people and indirectly benefited over 20,000 people in the six communities of Nhome, Mpalanga, Chidilo, Chiguluka, Chipanga A and Chipanga B in Bahi District. 
With Episcopal Relief & Development's guidance and support, the Anglican Diocese of Kondoa in Tanzania has begun integrating COVID-19 prevention recommendations into their savings groups. The diocese has equipped volunteers with mobile phones so they can lead efforts remotely via text messaging and phone calls. Distribution of emergency supplies and food rations for those impacted by the virus and shutdowns is being conducted using appropriate safety guidelines such as personal protective equipment and physical distancing.
Additionally, Episcopal Relief & Development is partnering with Mothers' Union to leverage their network in Tanzania of more than 800,000 women in order to spread accurate information about COVID-19 and how to reduce its transmission. This campaign will target mothers, who are often the primary caregivers for families.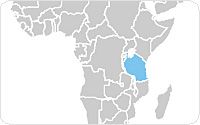 Women
Our work with Women focuses on helping communities promote the rights of women and children and move toward the vision that everyone deserves a life free from violence in a society where they are treated with dignity and respect. Only then can communities truly heal and thrive.
Climate
Our Climate-related work focuses on how families and communities can work together to adapt to the effects of rapidly changing weather patterns. This work includes preparing for and recovering from climate-influenced events such as floods, hurricanes and other disasters.