Corporate Matching Gifts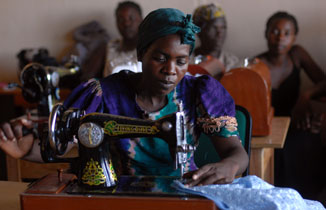 Interested in multiplying
your gift?
Our Corporate Matching Gifts program is a smart way to maximize employee contributions. In fact, you can double, and sometimes triple, a donation. Through this match, your company can help us increase the number of people and communities transformed by our partnerships. Episcopal Relief & Development welcomes corporate partners to share in our mission of healing a hurting world.
Here are the benefits to employee and corporate donors:
You increase employee donations
You help achieve corporate philanthropic goals
You make a tremendous impact on people and communities worldwide
When making a matching gift, please be sure to do the following:
Check with your company's Human Resources Department to confirm whether or not employee donations are matched. If so, request a copy of your employer's matching gifts form.
Complete the form following your company's guidelines. Be sure to include the gift date, your name and address, and the gift amount, as well as Episcopal Relief & Development's name and (if available) the specific fund designation.
Send the form to Episcopal Relief & Development:
Episcopal Relief & Development
ATTN:  Donor Services
815 Second Avenue, 7th Floor
New York, NY 10017
If you prefer, you can fax your company's form to:
Episcopal Relief & Development
ATTN:  Donor Services
Fax:  1.212.687.5302

For your convenience, you can also donate by calling toll free: 1.855.312.HEAL(4325)
We will verify your donation and return the form to your company, which will then issue a matching gift contribution to Episcopal Relief & Development.