A Healthy Start – Church of Bangladesh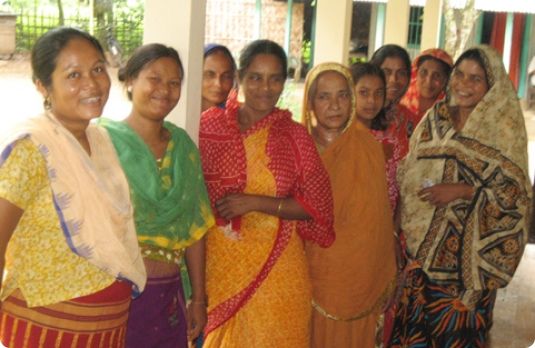 Almost half of Bangladesh's 135 million citizens live below the poverty line, and the country's malnutrition and maternal mortality rates are among the world's highest. In a setting with multiple poverty challenges, targeted programs can have a major impact.
Episcopal Relief & Development's program partner—the Church of Bangladesh and its outreach arm, the Church of Bangladesh Social Development Program (CBSDP)—is focusing on improving health care in the impoverished Madhupur subdistrict of the country by supporting a health clinic. The Thanarbaid Clinic and its sub-center in Dhorati provide services to 18 communities at a nominal cost.
With a population of 100,000, the district has few government services available. The Thanarbaid Clinic is the only health program accessible to the poor, providing outpatient and inpatient care, a mobile health unit and hospital transfer service. In 2008, more than 14,600 people directly benefited from the Clinic's services and additional outreach programs.
The Clinic employs innovative strategies to meet the needs of patients. Visiting health workers (VHWs) travel by bicycle to remote villages in order to assist pregnant women who have no means of reaching the clinic. The workers provide training and supplies for sanitary home births, as well as postnatal care to babies and toddlers, who are especially vulnerable to disease and malnutrition. This care includes monitoring nutritional intake, giving immunizations and weighing and measuring children to assure proper growth.
Kanon, a Thanarbaid VHW, sees expectant mothers each month through the seventh month of pregnancy and weekly during the last two months, or daily if complications arise. Recently, she visited Lipa and Tilu, two women who are both expecting their second child. Each mother had delivered her first child at home. This time, Lipa and Tilu said, they're both planning to deliver at the Clinic "for safety, because of the experienced nurses and the instruments available."
If a mother chooses to have the child at home, Kanon assists with delivery and ensures the safety of mother and baby before, during and after birth. She also teaches families about basic health issues to prevent disease, such as hand washing, latrine use and choosing nutritious foods.
According to Kanon, just five years ago, local residents were superstitious and fearful of health workers coming to their homes. "They believed that if a child took medicine, it would grow up to be difficult," she said. "A pregnant woman would not come out of the house for fear that bad spirits would get her. Villagers wouldn't allow children to be weighed for malnutrition." Through the efforts of Kanon and her Thanarbaid colleagues, residents have grown more comfortable with seeking care at the Clinic and from VHWs.
With hunger an ongoing local problem, the Thanarbaid Clinic maintains a fish pond, duck farm and produce garden to provide inpatients and staff with sustainable sources of food. In addition, a sanitation outreach program ensures clean water through the installation of wells and latrines. This initiative is helping people improve their overall health by decreasing the amount of waterborne illness.
Thanks to the power of partnership, the Clinic's dedicated staff is enabling Madhupur residents to receive needed medical care, give their children the right start and live healthier lives. Together with the Church of Bangladesh, Episcopal Relief & Development is healing a hurting world by helping vulnerable people meet basic needs and overcome the challenges of poverty.
To support Episcopal Relief & Development's work around the world, please click here.