Planting Hope in Nicaragua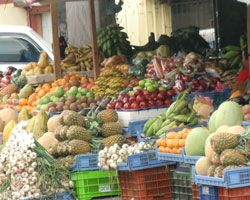 Antonio is a community leader in the rural municipality of San Fransisco Libre, located on the north shore of Lake Managua in Nicaragua. It is a remote area with rocky soil and little rainfall, making it difficult to grow anything but the hardiest crops. The local diet is mainly made up of corn, rice and beans, with root vegetables, papaya and plantains for variety. Deforestation and erosion due to flooding had degraded the soil, as had agricultural techniques like slash-and-burn land clearing which Antonio and his neighbors used before they got involved with CEPAD. Episcopal Relief & Development is partnering with CEPAD, an ecumenical organization that works with villages in Nicaragua, to develop sustainable farming techniques and support community organization and development.
At the beginning of the project, CEPAD staff spent time in San Fransisco Libre working with Antonio and other local farmers to figure out what techniques were most effective given the local soil and weather conditions. They experimented with soil and water conservation methods, and produced and tested organic fertilizers and pesticides. This knowledge formed the foundation for the training curriculum that was rolled out to the rest of the community, and the results have convinced even the skeptics that the new techniques are better.
"Many of my neighbors thought I was crazy in the beginning when I was putting in so much work," Antonio said. "But I always believed it would work, because I trust the organization."
Like with many sustainable projects, a lot of time, effort and trust was required before it was possible to see results from these new methods. The goal was to improve the soil itself, which would then make it possible to grow a greater variety and quantity of produce. This would then boost household nutrition and enable farmers to sell their surplus fruits and vegetables in local markets, which would give them income to invest in land, equipment, education or other things that would improve their families' lives.
The farmers in San Fransisco Libre wanted to reduce erosion due to wind and the occasional flood, maximize what water did come to the area, and increase the organic content of the soil in order to grow better crops and make it easier to work with. Antonio planted "live barriers" of hardy plants to act as wind screens and help bind the soil together. He dug ditches to slow down the rainwater which used to carry away loose topsoil, allowing the water time to sink into the ground and enabling him to collect the loose soil and redistribute it where it was needed.
After implementing these measures to improve the quality of his land, Antonio started planting a great variety of crops. His fields began producing avocados, cashews, plantains, squash and dragonfruit. He planted corn and cowpeas together, which are complementary crops that benefit one another. The results he has seen so far are encouraging him to think bigger and plan for the future. He has been able to sell his small surpluses in the local market, and the income from this has given him the confidence and the resources to further improve his operations. Antonio is also currently involved as a promoter for the soil and water conservation methods that he helped test and refine, using his own farm to demonstrate to his neighbors the difference that the new techniques are making in the quality and productivity of his land.
In San Fransisco Libre, taking the time to create a customized set of best practices had a wide range of benefits beyond just figuring out what worked or didn't work. It built trust between the project managers and the farmers, and strengthened relationships between the participants. Having been part of the project from the beginning, the farmers felt a sense of ownership that encouraged them to keep participating and contributing to the community's collective expertise.
Additionally, the growth and success of the project has enabled women to become more involved in agriculture – something CEPAD has actively encouraged. Food production has traditionally been up to the men, aside from small herb gardens that many women grow next to their homes, but as the fields become more productive and there is more work to be done, their wives have been joining the effort. Currently about a third of the program participants are women, and aside from the benefit of increased food production for their households, they are also gaining economic power and joining their husbands in decision-making both in their homes and in their community.
"I have been incredibly impressed with the results of the program in San Fransisco Libre so far," said Sara Delaney, a Program Officer for Episcopal Relief & Development, "not only because they've been able to successfully put into practice methods that are both new and require a lot of work for each farmer, but also because there's been a shift in how people feel about themselves and what they're able to accomplish. I talked to one woman who told me with pride that the chicken soup she had made had come exclusively from ingredients she had grown herself. That's such an empowering feeling, and I heard it expressed again and again."
For Antonio and his neighbors, the techniques that Episcopal Relief & Development and CEPAD helped them develop will ensure that the land continues to grow in quality and productivity, helping the village to prosper long into the future. Sustainability does take time, but it is well worth the effort.