79th General Convention 2018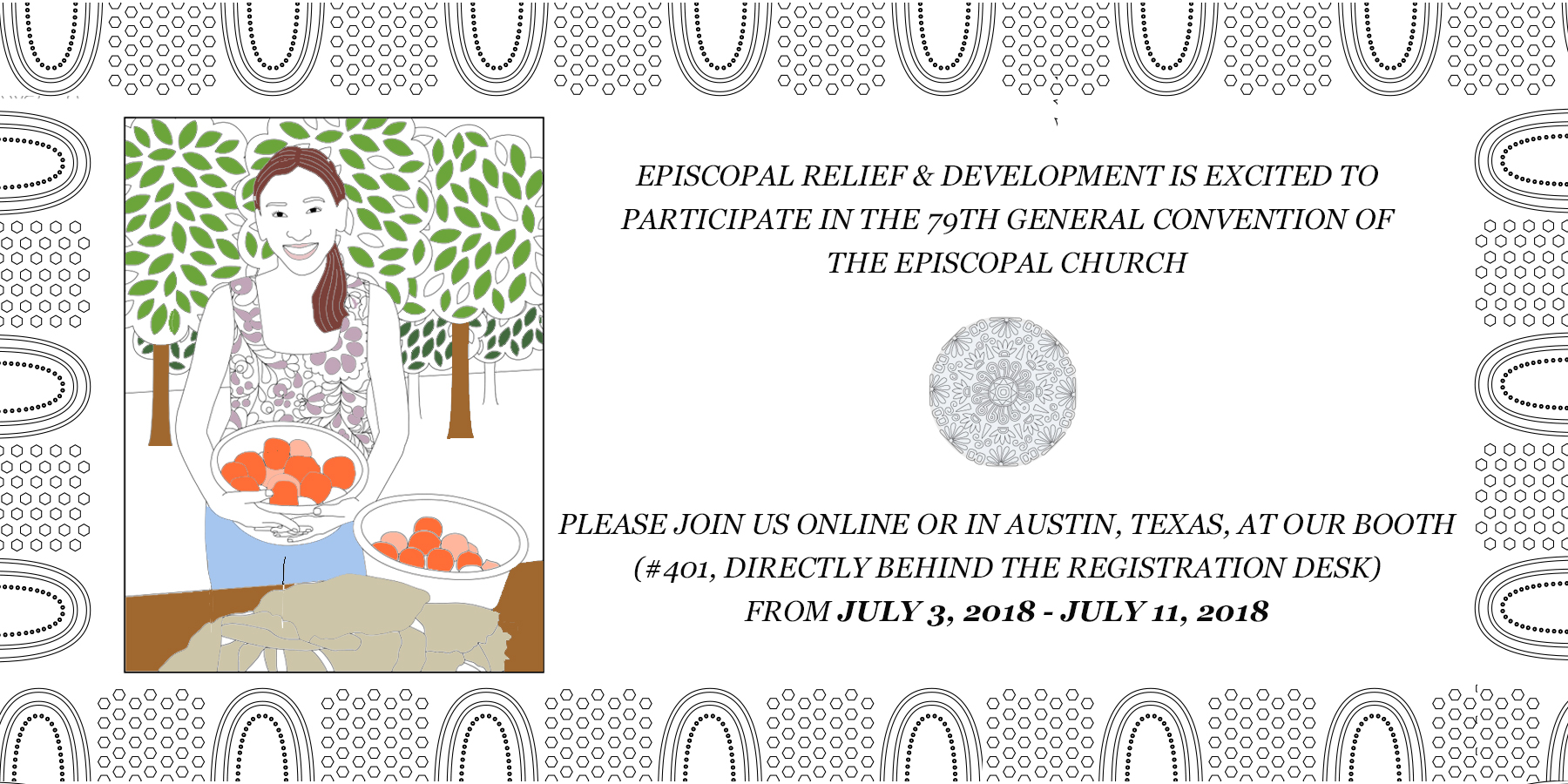 Join us During the 79th General Convention 2018
For over 75 years, Episcopal Relief & Development's diverse, faithful community has responded compassionately to the suffering in our world. With your partnership, we facilitate healthier, more fulfilling lives in communities struggling with hunger, poverty, disaster and disease.
We would like to take the opportunity during this 79th General Convention to say, "Thank You!"  and invite you to join us online or at the booth, as we "Color Our World" with Faith, Dignity, Relationship, Leadership and Excellence. Visit us at our booth 401 between July 3 and July 11, to learn how we work to become the hands and feet of God in the world.
Offset your carbon footprint by donating to support our climate resilience programs.
Pick up a coloring book that celebrates our worldwide partnerships

Speak with Episcopal Relief & Development staff to hear stories about our work and exchange ideas.
Attend one of the following presentations given by staff. Exact locations and other details will be posted soon.
– July 6, 8 a.m.: Vice President of Programs, Abagail Nelson will present to the Triennial Meeting of the Episcopal Church Women (ECW)
– July 6, 12:15 p.m.: Special advisor for International Programs Kirsten Laursen participates in the TEConversation, 'Faith Communities Uniting to End Violence Against Women and Children'
– July 7: 1:15–2:00 p.m.: Asset Map Coordinator Tamara Plummer presents the TEConversation, The Episcopal Asset Map as a Tool for Evangelism
– July 8, 2 p.m.: Program Officer, Chad Brinkman will address the Young Adult Festival
– July 8, 2:30 p.m.: Director of Engagement, Sean McConnell will present at a United Thank Offering (UTO) workshop on Asset Based Community Development (ABCD)  and UTO Grants
– July 8, 5:30 p.m.: President, Rob Radtke to Address the House of Deputies
– July 10: 12:30–1:15 p.m.: Staff to present TEConversations Green Footprints at General Convention

The Episcopal Church along with Episcopal Relief & Development invite you to help offset your carbon footprint & honor the resources we use as we gather in Austin for the 2018 General Convention.
Make a gift to support climate resilience programs at Episcopal Relief & Development. Your gift will support our partners who are fortifying our planet by implementing climate smart agriculture, water harvesting and tree planting. For example, we plant a tree for every dollar contributed.


At Convention
In this video report, General Convention deputy, Joe McDaniel, offers his reflection on these three things: what has fed his soul during #GC79, what has inspired him, and what will he bring back to our diocese that will continue the work of the Church.
Plus, alternate deputy, Eugene Johnston, who is also a diocesan coordinator for Episcopal Relief & Development, interviews Sean McConnell. McConnell is the senior director for engagement at Episcopal Relief & Development. He tells how the Color Our World booth translates Episcopal Relief and Development's strategic focus of helping children and their mothers get the right things they need to live safe and healthy lives. Johnston and McConnell also discuss why the Episcopal Asset Map is helping congregations share their church with the world.

Social Hub #GC79


Stay connected throughout the convention by following us on Facebook and Twitter
using the hashtags #GC79 #ColorOurWorld and #EpiscopalRelief