Matching Gift Challenge 2013: Double Your Impact!
October 8, 2013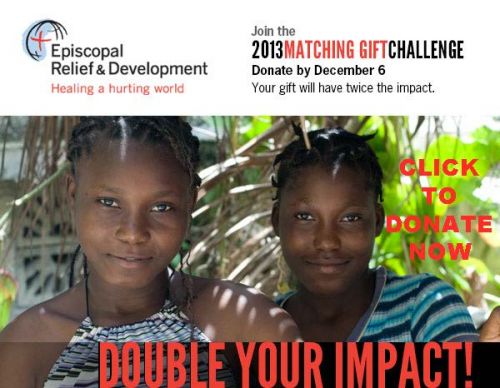 Episcopal Relief & Development is launching a special opportunity to strengthen its work and mission of healing a hurting world. During the 2013 Matching Gift Challenge, taking place between October 1 and December 6, all donations to Episcopal Relief & Development will be doubled! Thanks to a group of very generous supporters who have pledged $500,000 in matching funds, the impact of gifts of any size – online, via mail or by phone – will be matched dollar-for-dollar up to that amount.
Gifts to any fund, including through Episcopal Relief & Development's Gifts for Life program, are eligible for the match. The matching amount will go to the Global Needs Fund, which helps sustain the organization's life-giving, transformative programs in the areas of greatest need.
"The Matching Gift Challenge is an exciting time because our supporters can give to the program area they're most passionate about – clean water, women's empowerment – and at the same time help sustain our overall mission through the matched gift to our Global Needs Fund," said Judy Sawler, Senior Manager of Direct Marketing, who oversees the campaign. "It's a great chance to see $50 do $100 worth of good, or convert $250 into a $500 impact."
Gift matching is automatically activated when a contribution is made to one of Episcopal Relief & Development's listed funds. These funds support the organization's year-round efforts to alleviate hunger, promote health, create economic opportunities and respond to disasters. Donations to the Global Needs Fund will help ensure that Episcopal Relief & Development can respond to urgent needs and continue its vital programs across the globe.
"The generosity of our supporters during the Matching Gift Challenge enables Episcopal Relief & Development to leverage gifts of time, talent and treasure year-round for the benefit of more than 3 million people," said Rob Radtke, the organization's President. "Our local Church and ecumenical partners mobilize area resources and volunteers to create context-specific solutions to alleviate poverty, hunger and disease. By working together, we can make a huge impact, and I want to thank everyone whose gifts and efforts help further our mission."
To have your gift matched, simply make a donation between now and December 6. Click here to donate online, or call 1.855.312.HEAL (4325). Gifts can also be mailed to Episcopal Relief & Development, PO Box 7058, Merrifield, VA 22116-7058.
Episcopal Relief & Development is the international relief and development agency of The Episcopal Church and an independent 501(c)(3) organization. The agency takes its mandate from Jesus' words found in Matthew 25. Its programs work towards achieving the Millennium Development Goals. Episcopal Relief & Development works closely with the worldwide Church and ecumenical partners to help rebuild after disasters and to empower local communities to find lasting solutions that fight poverty, hunger and disease, including HIV/AIDS and malaria.