Partners in the Philippines Respond to Super Typhoon Hagupit/Ruby
Episcopal Relief & Development is in contact with the Episcopal Church in the Philippines and its relief and development arm, E-CARE, in support of their response to Typhoon Hagupit/Ruby. The storm made landfall near Dolores, Eastern Samar, on the night of December 6.
---
Floyd Lalwet, Provincial Secretary and National Development Officer of the Episcopal Church in the Philippines, posted an update to the "Anglican Relief for Typhoon Yolanda Survivors" Facebook page about relief activities following Typhoon Hagupit/Ruby.
"The strong winds and rains expected in Manila last night and feared flooding and landslides, again thankfully, did not come or happen. Both our prayers, preparations and your support now allow us to breathe a positive sigh of relief! Our first trip of relief goods from our communities arrived in Leyte this morning. Tomorrow, another truck is proceeding there. Our one time operation of relief items, consisting of products from our partner communities in the north, will be provided to our communities as they do the community clean up and repair works."
Read the full statement here.
---
Typhoon Hagupit/Ruby is slowly moving through the Philippines after making landfall in Dolores, Eastern Samar, on the night of December 6 and Cataingan, Masbate Province, on the morning of December 7.
The typhoon has weakened to a tropical storm, reducing the likelihood of wind damage, though heavy rains may continue to cause flash flooding and landslides. Fast-moving flood water is the reported cause of 16 deaths in Samar; the total death toll as of December 8 stands at 22.
Many of the approximately 1 million people who evacuated to emergency shelters are returning home. However, an estimated 1,500 dwellings were destroyed by the storm, and power is out in 17 provinces across the Viyasas and Luzon.
In Tacloban, which was severely hit by Typhoon Haiyan/Yolanda in December 2013, E-CARE staff surveyed the surrounding area and reported widespread crop damage. In an area just beginning to recover from the previous storm, the physical and economic impact of this storm will be hard felt, particularly for farmers who had not yet harvested their rice crops. In order to facilitate clean-up and restore communications, the E-CARE team installed three solar-powered lighting and charging stations in strategic areas. The E-CARE office itself is also solar-powered, enabling it to serve as a hub for coordination.
"Our partners in the Philippines have extensive experience dealing with seasonal severe weather, with Yolanda last year and others before that," said Nagulan Nesiah, Program Officer for Episcopal Relief & Development. "They have built excellent staff capacity to manage large-scale response efforts, and because their disaster preparedness and relief activities rely on community leadership and involvement, they have strong networks that can be mobilized for both immediate assistance and long-term rehabilitation."
Nesiah reported that more assessment visits are planned for the week of December 8, as travel possibilities widen following the cleanup of debris. E-CARE staff expect that their pre-positioned relief supplies will be much needed.
Please continue to pray for all who have been affected by the storm or are in its path, and for first responders who are caring for and ensuring the safety of people in impacted communities.
A Prayer for First Responders
Blessed are you, Lord, God of mercy, who through your Son gave us a marvelous example of charity and the great commandment of love for one another. Send down your blessings on these your servants, who so generously devote themselves to helping others. Grant them courage when they are afraid, wisdom when they must make quick decisions, strength when they are weary, and compassion in all their work. When the alarm sounds and they are called to aid both friend and stranger, let them faithfully serve you in their neighbor. We ask this through Christ our Lord. Amen.
— Adapted from the Book of Blessings, #587, by Diana Macalintal
---
Episcopal Relief & Development has reached out to the Episcopal Church in the Philippines and its development arm, E-CARE, as Typhoon Hagupit (known locally as Ruby) approaches the country with wind gusts of up to 150 miles per hour.
The Episcopal Church in the Philippines (ECP) and E-CARE have been monitoring disaster preparedness efforts in at-risk communities and organizing shipments of relief supplies to send once travel bans have been lifted. Staff in Manila have stockpiled food, water and other items at the Church office, and cleared rooms to host evacuees.
According to The Weather Channel, "while it still remains a bit uncertain whether the center of Hagupit will technically 'make landfall', the most intense eyewall winds will arrive in Samar Island (particularly northern and eastern parts of the island), and perhaps also affecting northern Leyte Island (including Tacloban City) Saturday evening, continuing into Sunday, local time."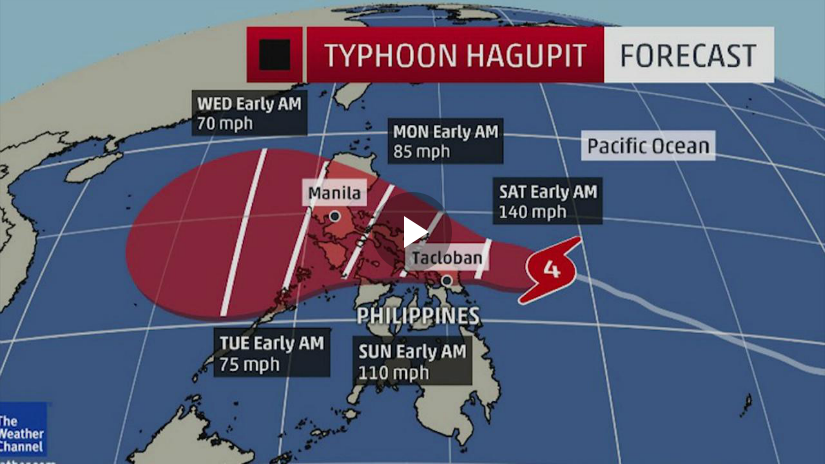 Tacloban was one of the areas hardest hit by Typhoon Haiyan/Yolanda in December 2013.
During the week of December 1, E-CARE staff visited local volunteers around Tacloban who had received training in Disaster Risk Reduction over the past year. According to E-CARE staff, families are securing food and other emergency supplies, moving livestock and valuable items to safer locations and either reinforcing their homes or evacuating to shelters.
Around Tacloban, approximately 19,000 people are taking refuge in 26 evacuation centers; nationally, estimates reach 500,000.
Anticipating needs following Typhoon Hagupit/Ruby, ECP is preparing two shipments of supplies from communities in Luzon (the northern region) to be transported to the Viyasas (central islands) as soon as travel is possible. The supplies include sweet potato biscuits and energy mix (a powdered nutritional supplement suitable for infants as well as children and adults), plus rice, noodles and other locally produced items.
Since Typhoon Haiyan/Yolanda, ECP and E-CARE have been deeply involved in relief and recovery activities. It was during this response that E-CARE first facilitated the transport of healthy, organic relief supplies from its agricultural programs in Luzon to areas further south. This effort helped programs to expand, while building solidarity between communities and modeling a way for Haiyan/Yolanda-impacted areas to speed their own economic and agricultural rehabilitation.
Floyd Lalwet, Provincial Secretary and National Development Officer for ECP, remarked: "This bad news [about Typhoon Ruby approaching] comes at a time with the Episcopal Church [in the Philippines'] disaster response project in Yolanda-affected communities is proceeding very well, with many stories that uplift the spirit and inspire other communities."
"Let us pray that all our communities in the expected path of the storm be spared from devastation," he said.
Evening Prayer II
Keep watch, dear Lord, with those who work, or watch, or weep this night, and give your angels charge over those who sleep. Tend the sick, Lord Christ; give rest to the weary, bless the dying, soothe the suffering, pity the afflicted, shield the joyous; and all for your love's sake. Amen.
— Book of Common Prayer, page 124