Statement on the Church of South India Matter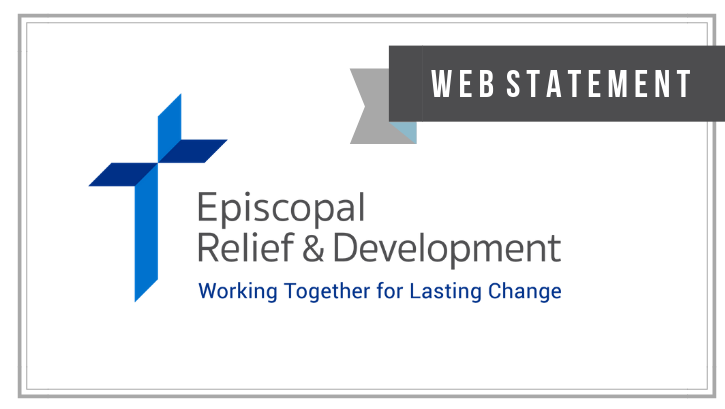 Web Statement
October 28, 2020
The legal dispute between Episcopal Relief & Development and the Church of South India has continued to progress through the court system in India with final arguments being heard by the Madras High Court on Tuesday, November 10.
After the 2004 Indian Ocean tsunami, Episcopal Relief & Development worked with Church partners in India and Sri Lanka to support local relief and recovery efforts to help people rebuild their lives and livelihoods in the wake of the disaster.
Episcopal Relief & Development approached the local Church authorities in 2007 with concerns after the Church of South India (CSI) failed to complete the financial reporting and required audits outlined in the partnership agreement for 2005 and 2006.
As a result, we suspended work with CSI and implemented an in-depth effort to account for the donated funds. After a lengthy process, we deeply regret that we were compelled to take legal action in an effort to ensure the donated funds were properly used to benefit individuals and communities devastated by 2004 Indian Ocean tsunami.
On October 23, 2009, Episcopal Relief & Development filed a civil case in Chennai, India against CSI and its former leadership.
This situation is highly unusual. With all of our programs, we strive to honor our commitment to our faithful donors as well as the people we partner with around the world. On the whole, our global partners are extremely meticulous in providing required reports and conducting audits as authorized by the terms of our agreements. The partnership with CSI was only a portion of our tsunami response work. Clean audits were completed with our Church partners in both North India and Sri Lanka.
The sole objective of these ongoing efforts to account for the tsunami relief funds is to fulfill our original intent to faithfully administer the funds that were received from generous donors on behalf of those impacted by the tsunami.
Since this is a legal matter, Episcopal Relief & Development cannot comment further on the situation. We have faith in the Indian judicial system and believe this case will be handled fairly.
For over 75 years, Episcopal Relief & Development has been working together with supporters and partners for lasting change around the world. Each year the organization facilitates healthier, more fulfilling lives for more than 3 million people struggling with hunger, poverty, disaster and disease. Inspired by Jesus' words in Matthew 25, Episcopal Relief & Development leverages the expertise and resources of Anglican and other partners to deliver measurable and sustainable change in three signature program areas: Women, Children and Climate.