Episcopal Relief & Development Focuses on Lament in 2021 Lenten Meditations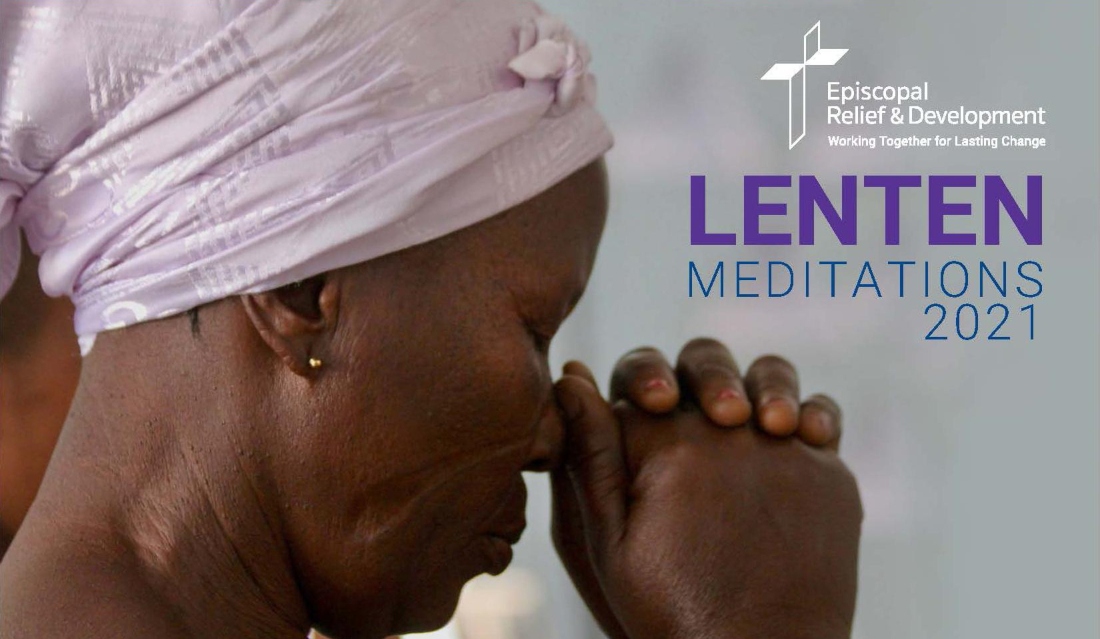 Episcopal Relief & Development Focuses on Lament in 2021 Lenten Meditations
Press Release
January 19, 2021
In response to the unprecedented events of the past year, Episcopal Relief & Development's 2021 Lenten Meditations share deeply personal reflections on the theme of lament from a diverse group of writers. Many of the authors share experiences related to a variety of issues including disease, violence, racial injustice and poverty.
"2020 was a deeply challenging year for many, filled with losses," said Sean McConnell, Senior Director, Engagement, Episcopal Relief & Development. "We hope our supporters will use the 2021 Lenten Meditations to guide them through the four steps of lament and to help them heal and grow."
The meditations follow the "Four Steps of Lament" outlined by author and speaker Heidi Weaver:
Rest, to take sabbath time to simply be present to our current situation
Reflect on that which has been lost
Repent for the sufferings and loss we have caused or overlooked
make Restitution and be Restored to God and to one another
The authors of the meditations are all leaders in The Episcopal Church and represent diverse perspectives, ministries and backgrounds.
"Editing the collection was powerful to me on a personal level," said Sandra Montes, Editor of the 2021 Lenten Meditations. "Reading each reflection by Episcopal leaders of color who invited me into this season of Lent by opening up their hearts and using their voices to help me lament, while giving me hope, was incredibly moving."
The 2021 meditations are available online to download.  Supporters are also invited to sign up to receive the daily meditations in English and Spanish by email. Unlike previous years, the meditations are only available online, not as printed booklets.
"As many churches have moved their services online, we felt it was important to create a Lenten experience that would continue to be useful for our supporters," continued McConnell.
Episcopal Relief & Development also invites churches and supporters to observe Episcopal Relief & Development Sunday this year on Sunday, February 21 or another Sunday in Lent. Lent was officially designated at the 2009 General Convention of The Episcopal Church as a time for dioceses, congregations and individuals to remember and support the work of Episcopal Relief & Development. Although the first Sunday in Lent is the official day of observance, churches may hold a special service on any Sunday. Liturgical resources to help congregations observe Episcopal Relief & Development Sunday are available at episcopalrelief.org/sunday.
"The expressions of lament in the 2021 Lenten Meditations share sorrow, but they also come from a place of deep love," said the Most Rev. Michael B. Curry, Presiding Bishop and Primate, The Episcopal Church. "Because God loves us we know that God joins us in lamenting the loss of any living being."
Download the Lenten Meditations and learn more about planning an Episcopal Relief & Development Sunday at episcopalrelief.org/Lent.
For 80 years, Episcopal Relief & Development has been working together with supporters and partners for lasting change around the world. Each year the organization facilitates healthier, more fulfilling lives for more than 3 million people struggling with hunger, poverty, disaster and disease. Inspired by Jesus' words in Matthew 25, Episcopal Relief & Development leverages the expertise and resources of Anglican and other partners to deliver measurable and sustainable change in three signature program areas: Women, Children and Climate.