Response to Intense Flooding in Southern Africa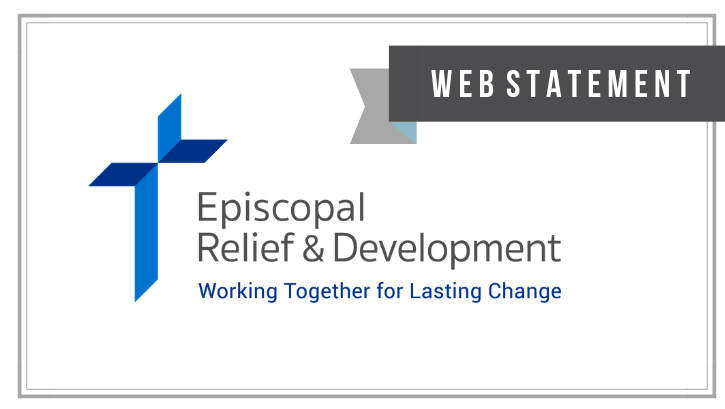 Heavy rains that began in January 2015 have caused widespread and persistent flooding across several southern African nations, including Malawi and Mozambique. Please continue to pray for all impacted and for those striving to meet urgent needs.
---
Episcopal Relief & Development is providing emergency assistance to the Anglican Council of Malawi in response to widespread flooding that has destroyed crops and left tens of thousands homeless. Agency support is supplying food and fuel, and staff are providing technical assistance as needed.
Flood relief efforts will reach four hard-hit dioceses in the southern part of Malawi, where more than 97,000 people have been affected. Diocesan response is facilitated by strong volunteer networks and solid ties to the Anglican Council of Malawi built through participation in Episcopal Relief & Development's NetsforLife® malaria prevention program.
According to National Health Coordinator Matilda Chiutala, the Anglican Council of Malawi aims to assist 1,000 families that have been most severely impacted by the flood, especially those who have lost homes. "According to our assessment, women, children and vulnerable groups such as the disabled, chronically ill and elderly have greatly been impacted," Chiutala writes. "Most of those who have died are children; however, the general population has been affected … their houses, gardens and food have been washed away."
Heavy rains began in early January, destroying an estimated 64,000 hectares of farmland and displacing 230,000 people (as of February 25). Continued precipitation has prolonged flood conditions, preventing families from returning to their homes and disrupting agriculture and the economy.
In addition to food and shelter, immediate concerns include water-borne disease such as cholera and an increase in malaria due to standing water and the loss of mosquito nets. The Anglican Council of Malawi has sourced 50,000 nets in-country from UNICEF and PMI to address this. Long-term concerns include food shortages due to crop loss and the erosion of transportation infrastructure.
"The situation in southern Malawi is very dire and it will take some time for communities to recover from the destruction of homes, roads and farmland," said Nagulan Nesiah, Episcopal Relief & Development's Interim Senior Program Officer for International Emergency Response Coordination. "We are thankful that our partnership with the Anglican Council of Malawi and their strong relationship with dioceses in the impacted areas allows us to receive information and act more quickly than if those ties were not in place. Our prayers are with them and all of the communities working to overcome this disaster."
Episcopal Relief & Development works with more than 3 million people in nearly 40 countries worldwide to overcome poverty, hunger and disease through multi-sector programs that utilize local resources and expertise. An independent 501(c)(3) organization, Episcopal Relief & Development works closely with Anglican Communion and ecumenical partners to help communities rebuild after disasters and develop long-term strategies to create a thriving future. In 2014-15, the organization joins Episcopalians and friends in celebrating 75 Years of Healing a Hurting World.
---
Episcopal Relief & Development is working with Church partners in Mozambique and Malawi in response to the intense flooding in southern Africa.
Torrential rain and major floods have caused over 260 reported deaths in Mozambique, Malawi and Madagascar. More rain is expected throughout the week, affecting even more communities. UN OCHA estimates that over 740,000 people in the impacted region will suffer from extensive crop losses.
In Mozambique, Episcopal Relief & Development is partnering with the Diocese of Niassa on a multi-agency appeal to serve over 1,000 vulnerable families. In the immediate aftermath of the floods, the diocese will provide families with mosquito nets, water purification tablets, soap and maize as well as agricultural equipment such as hoes and seeds during the recovery phase.
Episcopal Relief & Development is supporting the work of the Anglican Council in Malawi as it partners with all four dioceses to meet the needs of 6,000 people around the country. The dioceses are providing critical food including flour, beans cooking oil and salt, and household materials such as blankets, water tablets and mosquito nets.
Program Officer Nagulan Nesiah has been working closely with 12 international church partners on a Pastors and Disasters Toolkit for Community-Based Disaster Risk Reduction and Management. This program has been active in Mozambique before the flooding.
"As part of our Disaster Risk Reduction initiative, we had begun work with the Diocese of Niassa on 10 of the 20 target communities in Mozambique on disaster preparedness. These 10 communities are now leading their own relief program, managing activities and mobilizing themselves for a more effective response," said Nesiah. "We hope to mirror this success and share our new Toolkit to help equip and prepare communities as they face any future disasters with great resilience."
Please continue to pray for all those impacted by severe flooding in southern Africa.