Supporting Migrants in Mexico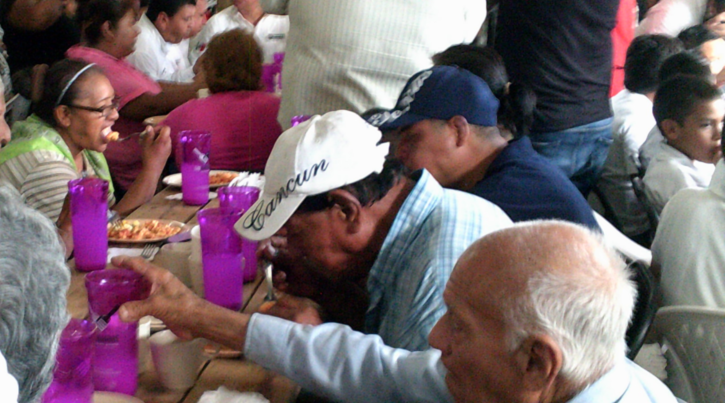 San Esteban Anglican Church provides food and supplies to migrants in need of assistance.
Web Statement
Supporting Migrants in Mexico
December 3, 2018
Episcopal Relief & Development is supporting the work of the Anglican Church in Mexico to provide shelter, food, water and other basic needs to migrants from Central America seeking asylum in the United States. As part of a joint-proposal sent to and funded by a collective of Anglican Alliance agencies, the efforts help meet immediate and long-term needs, beginning with a ministry through San Esteban Anglican Church in Rio Bravo, Tamaulipas, Mexico, across the border from Donna, Texas.
In the early fall, migrants from Honduras, El Salvador, and Guatemala, left their homes headed to the United States to request asylum from poverty and violence in their home countries. The travel, often on foot, has been difficult and many of the migrants have limited access to shelter, food and water. In fact, many of them have been injured during travel and suffered from dehydration and malnutrition, as well as overcrowding in camps at the border. As a result, they are more susceptible to illness.
In partnership with neighboring churches in the Rio Bravo area, San Esteban Anglican Church, is expanding their existing soup kitchen ministry to provide food, clothing and hygiene supplies to 1,000 migrants. The church is also working with the local City Council to make available critical medical and psychological support. Many of the migrants are expected to apply for humanitarian visas from the United States, a process that could take several months, and the migrants will need material support in the form of shelter, food, and basic necessities during this time.
"The migrants are in a position of extreme vulnerability," said Nagulan Nesiah, Senior Program Officer for Disaster Response and Risk Reduction at Episcopal Relief & Development. "In addition to needing basic supplies such as food and water, they are potential targets for gangs and traffickers. Our partnership with the Anglican Alliance and the Anglican Church in Mexico will help provide critical services and care to those most in need."
Please pray for the people impacted by this crisis. Donations to the International Disaster Response Fund will help Episcopal Relief & Development provide emergency assistance to the Central American migrants.
For over 75 years, Episcopal Relief & Development has been working together with supporters and partners for lasting change around the world. Each year the organization facilitates healthier, more fulfilling lives for more than 3 million people struggling with hunger, poverty, disaster and disease. Inspired by Jesus' words in Matthew 25, Episcopal Relief & Development leverages the expertise and resources of Anglican and other partners to deliver measurable and sustainable change in three signature program areas: Women, Children and Climate.