A Gift of Joy and Prosperity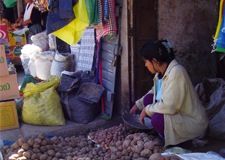 Andrea lives in Peru, where she works selling food at a local market. She works very hard, but she is often sad – both her husband and her daughter passed away, leaving her alone.
One of the places she has found support is in a "solidarity group" of women entrepreneurs. This group has been able to secure small loans, which are shared among the group members to help build their businesses. This resource has allowed Andrea to buy ingredients in bulk, helping her increase her profits and save money.
Now the treasurer of her solidarity group, Andrea has earned the trust and respect of its members. She knows she has people she can rely on, and feels proud and secure.