Gifts of Love, Gifts for Life!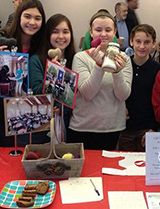 Advent is a season to anticipate the coming of Christ. And what better way to celebrate the spirit of the Christ Child, than to love one another as Christ loved us!
In my work on the Engagement team here at Episcopal Relief & Development, one of the joys of my job is hearing about the creative ways people across The Episcopal Church join together as congregations to deepen their understanding of global issues and respond to urgent needs. Working together is not only more fun, but it creates a bigger impact than any of us could by ourselves!
I want to share three particular examples of how churches are nurturing their connections to our work and the communities we partner with, by making Alternative Gift Markets an integral part of their season of giving.
The Episcopal Church of the Epiphany
Atlanta (Decatur), GA
Ann Fowler, a former Episcopal Relief & Development Parish Representative at The Episcopal Church of the Epiphany, put together an Alternative Gift Market for Advent a few years ago.
To prepare for the event, she gave money to Epiphany member Barbara Hotz, to purchase inexpensive gifts while she was on a medical mission trip in Ecuador. She brought back beautiful purses, bags, scarves, and nativity sets. Additionally, she asked Epiphany artists and craftspeople to donate work to the Alternative Market, which was held during Epiphany's annual Nativities Exhibit. Money made from art sales and from sales of the Ecuadorian gifts was donated to Episcopal Relief & Development through the Gifts for Life catalog.
To promote the Alternative Market, Ann made announcements during services, placed notifications in the church bulletin, as well as in the newsletter and weekly e-newsletter. Finally, on the day of the event, every church bulletin contained a Gifts for Life insert with information specific to Epiphany.
For the market, Ms. Fowler highlighted ten items from Gifts for Life that focused on women, children, and families. However, people were able to order any of the Gifts for Life.
During the event, excerpts of videos from the Episcopal Relief & Development website were played. The videos helped to illustrate the importance of Micro-Credit Loans for Women and other items highlighted in Epiphany's Alternative Market.
Once order forms and checks were filled out, people received their choice of gift cards; those provided by Episcopal Relief & Development, or Madonna and Child cards made by Epiphany children during VBS.
In total, the people at The Church of the Epiphany raised close to $3900 for Episcopal Relief & Development!
The Falls Church Episcopal
Falls Church, VA
The Children of the Falls Church Episcopal in Falls Church, Virginia, hosted an Alternative Gift Market during Advent 2013. The children, along with Nina Bacas, Director of Children's, Youth and Family Ministries, made ornaments depicting different Gifts for Life animals on one side, and a description of the gift on the other. Happy shoppers would purchase an animal from the catalog and receive the corresponding ornament to hang on their own tree or give, as a representative gift to loved ones. All together, the ornaments raised $681.00 to help families improve household nutrition and earn income with the goats, chickens and pigs from Gifts for Life!
Additionally, Falls Church families filled Episcopal Relief & Development Hope Chests according to an Advent calendar Ms. Bacas created, with instructions like: put in a coin for every pair of shoes you own. All the proceeds from this fun family endeavor went to help the littlest children through Gifts for Life gifts of Postnatal Care and Care for Moms and Newborns.
"It's powerful for our young people to be helping our brothers and sisters…that live across the world," says Nina Bacas. "Thanks to Episcopal Relief & Development, we are equipped with tools to do both in a manner that is effective, creative and spiritually formative."
All together, The Falls Church raised over a thousand dollars with their inventive and exciting Advent activities!
Zion Episcopal Church
Dobbs Ferry, NY
The children of Zion Episcopal Church, Dobbs Ferry, NY lead the Alternative Gift Market in Advent 2013. Self-professed animal lovers, Willa and Eliyah came up with the idea to create hand-made Christmas Cards. Each card depicted the image of a Gifts for Life animal and contained a message informing the recipient that a gift to Episcopal Relief & Development had been made in their honor.
The young ladies used the only Gifts for Life catalog in the parish to decorate their poster, so The Rev. Mary Grambsch, Priest-in-charge, made a special trip to the Episcopal Relief & Development office to pick up more catalogs for the event. She didn't mind the special trip. She said, "It is good for them to see that mission happens near and far."
The children sold the cards between services for people to give in lieu of Christmas presents. They even sent a special card to their Bishop, The Rt. Rev. Dietsche of the Diocese of New York. The kids set a goal for themselves of raising $300.00 for Gifts for Life, but they far exceeded their goal by bringing in over $475.00.
The Rev. Grambsch said, "The alternative gift market was very successful. The girls loved doing it and they learned more about Episcopal Relief & Development and the organization's work around the world."
Willa and Eliyah were so taken with the this good work, that they went straight away to planning a Valentine's Day project selling Valentine's to raise money for animals as well. These two budding entrepreneurs learned that giving of oneself can be the greatest gift of all!
Although animals are popular favorites at Alternative Gift Markets this season, they're really just one piece of the puzzle in strengthening communities! For Episcopal Relief & Development's 75th Anniversary, Gifts for Life now includes a special 75th Anniversary Gift Package, with Clean Water, Care for Moms and Newborns, Micro-Credit Loans for Women, Reforestation and Goats – five vital building blocks that can help communities create a thriving future for themselves and generations to come.
This coming Advent season, let us be representatives of the pure love of the Christ Child as we join our efforts with those of over 3 million people worldwide, to heal our hurting world.
——————————-
Chad Brinkman is Senior Associate for Engagement at Episcopal Relief & Development.
Images: Top, Children from Falls Episcopal Church. Middle 1, Ornament on Episcopal Relief & Development. Middle 2, Willa and Eliyah showcasing their poster. Middle 3 and Last, Alternative Market at The Episcopal Church of the Epiphany.
---
Healing the world starts with your story!
During the 75th Anniversary Celebration, we are sharing 75 stories over 75 weeks – illustrating how lives are transformed through the shared abundance of our partners and friends like you! We invite you to join us in inspiring our vibrant community by sharing your own story!