Integrated Approach to Ending Poverty in Ghana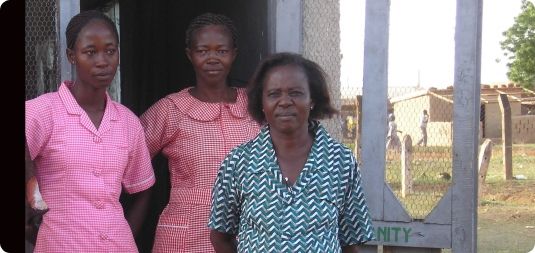 Ghana ranks 142nd on the United Nations Human Development Index. Natural resources have made Ghana more prosperous than many of its neighbors in West Africa. However, persistent poverty exists and most Ghanaians are small landowners relying on subsistence farming to survive, with one-third living below the poverty line.
Because of erratic rainfall and a short harvest season, the northern region of the country is particularly vulnerable to chronic poverty and food shortages. Malnutrition and child mortality rates are highest in this region, with malaria claiming the lives of 22% of children under 5 every year.
In Ghana, Episcopal Relief & Development is partnering with the Anglican Diocese of Tamale. The Diocese's development programs are implemented by the Anglican Diocesan Development and Relief Organisation (ADDRO), which has over 20 years of experience working in communities in the Upper East region of northern Ghana.
ADDRO's comprehensive programs address improving the food supply, gender and reproductive health, malaria, disability rehabilitation and water and sanitation throughout northern Ghana. These programs have had a significant impact on the communities in which they operate. ADDRO's work in the country is a wonderful example of the power of partnership.
For example, in the Bawku West District, ADDRO promotes the Disability Rehabilitation Program. The program trains disabled people in income-generating skills that range from farming to tailoring and provide seed money for the launch of micro-enterprises once training is completed. With this support, people who would otherwise have had no means to care for themselves and their families are equipped to earn a living and enjoy a life of dignity.
''I have been blind for over twenty years," said Abagsune, one program beneficiary. "After the first few years of blindness I was reduced to begging as a result of my handicap. Now, I own ten sheep to my credit after I was identified and supported by ADDRO three years ago. Apart from sheep rearing, I have diversified my income sources as now I'm a weaver. As an experienced graduate in mobility skills training, I sell robes and baskets produced by myself at a ready market in Bolgatanga, the capital of the upper-East Region of Ghana. Today, I no longer parade the streets of Bolgatanga asking for alms; and all my three younger children have been enrolled in our local basic school at Zaare.''
In Yelwoko, the Anglican Women Development Center serves girls who are not in school by teaching them dressmaking and batik making skills over the course of a three year period. Once they graduate from the program they are encouraged to start their own business and given support to do so. In this region of Ghana, families are often very traditional. Girls are usually not educated and frequently sold for a dowry. The Center works with the parents and husbands to help them understand the benefits of empowering women with skills. ADDRO also supports Gender Groups at two different primary schools. These programs educate children about the ways that traditional gender roles deny women and girls basic human rights and access to the same opportunities as boys and men.
"I have supported my husband to also go into some form of business (the buying and selling of animals) from the profits I made from this loan," said one beneficiary. "We have sent our third child to the university. The fourth is in a teacher training college and the last is at the Junior High level. The first two are not educated because we didn't have the money at that time to educate them. However, we have now pushed them into skill training (carpentry)."
Other projects make their impact at the community level. In the Bawku West District, a 10 acre mango plantation was recently started and cared for by a farming committee. There is water on site and the community members are helping to care for the seedlings. To ensure sustainability, committee members are paid a salary, but once the trees bear fruit they will sell it at market for income.
ADDRO's strength is in the breadth of issues it tackles and the innovative approaches it uses to address longstanding problems like hunger and gender inequality. The power of this partnership has transformed individual lives and strengthened communities for tomorrow's challenges.
Click here to learn more about Episcopal Relief & Development's programs in Ghana.