Lifesaving Care Everywhere: Helping Mothers and Babies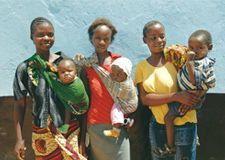 Veronica was carrying twins when she went into premature labor. The nearest health center to her village is a boat ride away – too far to travel with a medical emergency.
Fortunately, community health workers in small villages along the lake shore had been trained to offer basic services and medications.
Assisted by a trained midwife, Veronica gave birth safely. Sadly, one baby did not survive, and the other, Martha, was small and weak. But the midwife knew what to do.
Now Baby Martha receives a checkup every month from a local volunteer. Veronica is so grateful that her baby will have a healthy childhood.