NetsForLife®—Changing Lives Here and Abroad, Part 1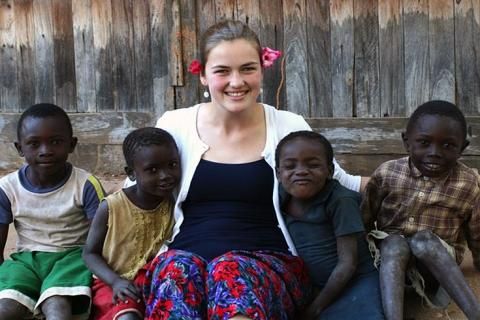 High-school senior Emma Wright is a member of St. Mary's Episcopal Church, Arlington, and a lay leader in the Diocese of Virginia. She is the lead youth representative for the Bishops' NetsforLife® Inspiration Fund, a diocesan-wide initiative to mobilize young people to fight malaria in sub-Saharan Africa through Episcopal Relief & Development. This guest post is adapted from Emma's original blog on St. Mary's website.
Sweat dripped down my face while the Sunday morning service in Mwitikira sprang into its third hour. My eyes began to wander beyond the cement walls of the crowded church, when suddenly chills raced throughout my body as the building swelled with joyful song. Voices so pure, they penetrated the thick air with their crisp harmonies. My eyes began to tear up, and I scanned the seemingly endless congregation.
Ten days earlier, I had traveled nearly 8,000 miles to the Diocese of Central Tanganyika (DCT) in Tanzania. The purpose of the trip was to experience the NetsforLife® program firsthand and to become immersed in the "net culture" there. All of the participants have been involved in fundraising for the Bishops' NetsforLife® Inspiration Fund here in our Diocese of Virginia. The travelers consisted of five teenage girls, including myself and our own Erin Patton, and four adult leaders, including Ed Wright and Nina Bacas, an Episcopal Relief & Development Diocesan Coordinator and co-leader of the Bishops' Fund.
Upon landing in Tanzania, we met up with our leader: Mama Magi. Magi Griffin is a missionary in the DCT, and she organized our entire itinerary. Each day, Magi took us to various communities, where we were welcomed by dancing and educational songs about malaria and other diseases. We went to four contrasting Dodoma program villages and two communities on the Dar es Salaam coast.
Not only did we get to teach about malaria, but we also learned about the extensive issues that surround malaria and how everything interrelates and impacts the prevention of disease. For example, we saw that without appropriate education, people often use malaria nets for fishing. Additionally, we not only observed activities, but we were also able to join the local NetsforLife® volunteers and community leaders in their work.
In Part 2, I'll share more about what we experienced, and the impact that the visit has had on my life.
Photo: Emma with children in Tanzania. Courtesy of Ed Wright.