NetsforLife® Inspiration Fund Story from the Field April 2012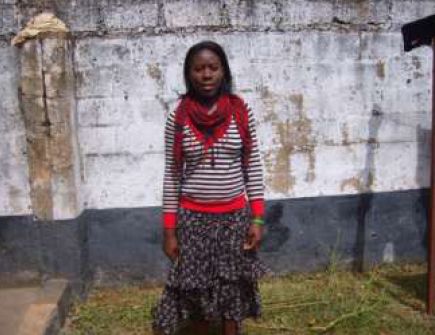 ZAMBIA – Zambia had one of the highest incidences of malaria-related deaths in the world,
responsible for 40% of the deaths among children under age five and 20% of the deaths of pregnant women.
Ms. Hilda Banda is a teacher, aged 29, at Nyane Basic School in Eastern Province. She has been posted to the rural area since completing her Teacher's training. In the beginning, she frequently suffer from malaria and was always on sick leave from her teaching assignment. She often considered transferring to another town to escape her constant illness. However, she received a long-lasting insecticidal treated bed net from Netsforlife® and sleeps under the LLIN every night.
She said, "I would like to thank the Zambia Anglican Council for the work that they are doing, especially in this area where I am. We used to have a lot of malaria cases but now there are no longer any cases of Malaria. Even my class which I teach, the children are never absent due to malaria, and I am so happy that ever since I received the LLIN I am so healthy. I have
never suffered from malaria again and have changed my mind about leaving this place. I am appealing to you to continue with this good work."
Like Ms Banda, many are no longer suffering from Malaria, because of the bed nets, and the training they have received from Netsforlife®!
The NetsforLife® implementing partner, the Zambian Anglican Council (ZAC) consists of five
dioceses—Central, Luapula, North, South and Lusaka—covering some of the most rural and remote areas in the country. ZAC serves a total population of more than 416,000 by training diocesan health workers who reach into the communities to implement health-care initiatives. In 2006, each of the five dioceses retained a coordinator who supervises a holistic and integrated development program, which includes malaria prevention and treatment. NetsforLife® is implementing prevention and treatment activities in a total of 34 rural communities throughout the five dioceses.
The NetsforLife® the Inspiration Fund is a grassroots effort to educate, engage, and unite Episcopalians to support the Millennium Development Goals through the fight against malaria. Our goal is to build awareness about this disease, how it can be prevented, and raise $5 million by December 2012.