NetsforLife® Inspiration Fund Story from the Field April 2012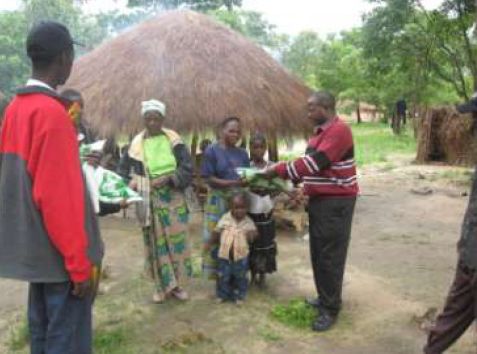 Zambia – Mrs. Belinda Chsanga is a mother of six children who have benefitted from NetsforLife®
distributing long-lasting insecticide-treated nets (LLINs). She was visited during the last quarter of 2010 by NetsforLife®'s Malaria Control Agents to monitor the utilization of LLINs as well as to
distribute nets to her for new sleeping spaces, dentified in a previous visit.
She is very grateful to the Anglican Church and NetsforLife® and said, "We are grateful to the Anglican Church we thought that the Church's duty is to preach the Word of God at the pulpit on
Sunday, but to our surprise the Anglican Church has come to our aid in the prevention of diseases. God bless you."
Before receiving the LLINs, Mrs. Chsanga suffered from malaria many times and missed work in the fields. Her illness prevented her from looking after her children, who also suffered from malaria frequently and missed a great deal of school. Since receiving the bed nets in 2008, she has not suffered from malaria at all and her children are enjoying good health. They no longer miss school and their improved attendance has increased their performance in class.
Mrs. Chsanga said, "I am very grateful to the Anglican Church and NetsforLife® for the work that is being done and I would like you to continue, as what you are doing is saving a lot of lives."
About Zambia & NetsforLife® Partnerships
Zambia has one of the highest incidences of malaria-related deaths in the world and is responsible for 40% of the deaths among children under five and 20% of the deaths of pregnant women.
Through its partnership with the Zambian Anglican Council, NetsforLife® is able to reach the most
remote corners of Zambia to engage in malarial prevention campaigns, and work to instill a "net
culture", mobilizing community members to share their experiences and success stories with their neighbors, building interest, ownership, and active participation in the fight against malaria.
The NetsforLife® the Inspiration Fund is a grassroots effort to educate, engage, and unite Episcopalians to support the Millennium Development Goals through the fight against malaria.
Our goal is to build awareness about this disease, how it can be prevented, and raise $5 million by December 2012.
Photo description: The program manager for Central Dioceses and the Malaria Control Agents at the home of Mrs. Belinda Chisenga during the monitoring handing over LLINs.