New Light Shines on Qinghai – The Amity Foundation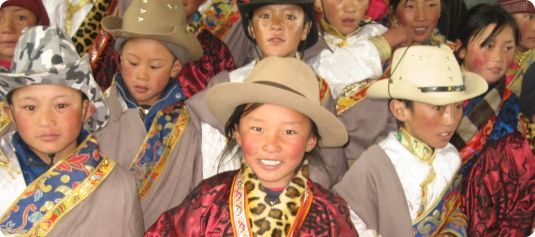 For the isolated communities of the Yushu Tibetan Prefecture in China's Qinghai province, life can be very challenging. In winter, regional temperatures often dip below zero degrees Fahrenheit and growing vegetables is extremely difficult. Most families survive by growing barley and raising small herds of sheep and yaks.
When residents must head inside because of the cold, they spend their days bathed in darkness. Their small homes made of earth have only one window, a design element that keeps out the wind – and the light. At night, the dim glow of yak's milk candles is insufficient for studying or doing chores. In addition to being inconvenient, the low light may also contribute to impaired vision, a common health problem in this region.
"For these communities, life during the winter months is grim," said Julie Petrie, Episcopal Relief & Development's Program Officer for Asia. "The cold climate forces people indoors and their activities are limited by the darkness."
To tackle the obstacles faced by local residents, Episcopal Relief & Development is collaborating with the Amity Foundation, an independent Chinese voluntary organization that focuses on people-centered sustainable development. By expanding a pilot project in which Amity provided solar power and television sets to 67 households throughout the region, the partnership is bringing light to the people of Qinghai.
Mrs. Zhang is one of the beneficiaries of Amity's pilot program. Her life changed drastically when she received a solar power system and a television for her home. Now, she and her family not only have adequate light for productive activity after dark, but access to television also allows them to feel more connected with the outside world.
With support from Episcopal Relief & Development, Amity's project has expanded – providing solar power and television sets to 250 additional households in the region. Televisions are accompanied by training videos that cover topics from agricultural practices and animal husbandry to health and nutrition. These tools will help residents use the long hours they must spend indoors during winter months for productive activity.
The expansion of the pilot project goes beyond the initial goal of providing individual households with increased resources. It is also reaching community facilities such as clinics and schools. The installation of solar power systems in three local clinics will create the opportunity for nighttime and emergency medical treatment for community members, which has never before been available in this community.
"One of the most exciting aspects of this project is providing solar power for classrooms at three residential schools," said Petrie. "Previously, students spent evening hours in their cold, dark bunk rooms. Now, because of the solar power, they can now pass the time in the heated classrooms, studying and playing together." In addition to solar power, the schools are being equipped with solar powered hot water systems, which will improve students' overall health and hygiene.
In expanding upon Amity's pilot project, Episcopal Relief & Development is enthusiastic about giving the gift of light and changing the lives of Qinghai's people. As pilot project beneficiary Mrs. Zhang exclaimed, "I have been given the sun!"