Part 1: Rice, Rice Everywhere – But No Way to Store It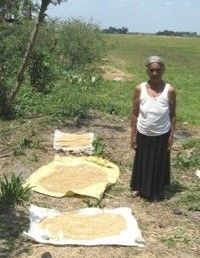 As I gazed out over the land behind St. Joseph's Church in Marabulig, the Philippines, a few small piles of rice on scraps of cloth caught my eye. I asked Father Sanchez Ollibac, the pastor, what it was. "Oh, that's rice gleaned by a widow from the fields after the harvest," he replied.
I was startled. Here was the Old Testament, which I always thought of as several thousand years ago, come to life! In this rural area, hit every year by typhoons, families are struggling to survive by growing rice on small plots of land – and the tradition of helping your neighbor still plays a vital role.
I learned a lot about rice farming on my visit earlier this year with the Episcopal Church in the Philippines and its Community-Based Development Program (CBDP), partners of Episcopal Relief & Development. The unmilled rice, called palay, must be dried before being sold or stored for eating later, and pavement is ideal for this step. However, many farmers don't have access to large paved areas. They have to use the roads, which puts them and their palay at risk of getting run over. Then without enough space to store the rice crop and keep it dry during heavy rains, farmers can't keep a sustainable food supply to last their families until the next harvest.
As Father Clarence Olat, a CBDP Program Manager, explained to me, "People think that even though the farmers are cash poor, at least they can feed their families with the rice they grow. But what is so sad is that without storage, they have to sell their palay at a low price, and later end up paying high retail prices to buy milled rice to eat."
The farming families are confronting these challenges through a community organizing process facilitated by the Community-Based Development Program. The people of Marabulig are planning to use the land behind the church for a rice drying and storage project. What happens next?
More to come in Part 2.
———-
Dawn Murdock is the Resource Mobilization Officer at Episcopal Relief & Development.
Photos: A woman drying her gleaned palay on pieces of fabric; palay spread out to dry in one lane of a road.