"Pirates" Learn About Real Treasure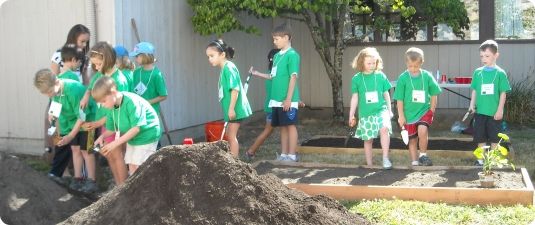 The participants in this year's Vacation Bible Camp at St. Thomas Episcopal Church in Medina, Washington, discovered the true meaning of "treasure." During the week-long day camp, more than 90 kids ages 4‐10 had a great time acting as pirates, hearing Bible parables, playing games and painting their own treasure chests. Becoming more aware about how to be good stewards, they collected change and donations from St. Thomas parishioners throughout the week. At the end, everything the campers learned came together as they used their newly acquired resources to bless others through Episcopal Relief & Development's Gifts for Life catalog.
With the theme of "Where Your Treasure Is…," the program divided the kids into six groups, visiting different activity stations. One of the stations was Gifts for Life, led by Jannie Best, where the campers planted vegetable seeds that they watered throughout the week and later took home. St. Thomas has a barrel that collects rain water, but the kids found out it couldn't be used for their seeds because the water picks up contaminants from flowing over roof tiles. So they carried water from another source across the church grounds in order to tend their seeds.
During this process, the campers experienced something of the everyday life of many in developing countries. As Josh Hosler, Associate for Christian Formation at St. Thomas, wrote, watching the kids carrying water brought to mind people in rural villages "walking for miles to bring back buckets of water from a well for planting and cooking. We're not very familiar with this routine in our culture, yet it is at the heart of life for millions of people the world over. And while some people may have access to safe water, most do not."
On Thursday, day four of camp, the topic was the Parable of the Great Pearl. Jannie led a discussion about what it means to be good stewards of treasure, and encouraged the children to practice sharing and saving as well as spending. The kids also learned that they'd amassed some $600 in change and other donations that they could share with people who live in poverty worldwide.
The next morning, the "pirates" went shopping with all of their treasure. With Jannie's help, each of the six groups browsed the Gifts for Life section of the Episcopal Relief & Development website and decided how to spend their $100. All together, the campers were able to touch numerous lives through a surprising amount of gifts: 13 mosquito nets, school lunches for five children, four ducks, four shares of a chicken flock, three shares of a pig and one goat.
"We're very grateful to St. Thomas for supporting Gifts for Life, and blessed to know that the kids were able to learn about an important part of stewardship—sharing of your abundance with those in need," said Brian Sellers-Petersen, Episcopal Relief & Development's Director of Church Engagement. "Whether it's Christmas or a summer Bible camp, the Gifts for Life catalog is a great way for children and people of all ages to see that they can help bring real change in people's lives."

Photo credits: Top, Adam Breunig; upper left, Leanne Cole. Bottom, left to right: Leanne Cole, Jennifer Winter, Lucia White.