Project ReRunway Helps Haiti Recover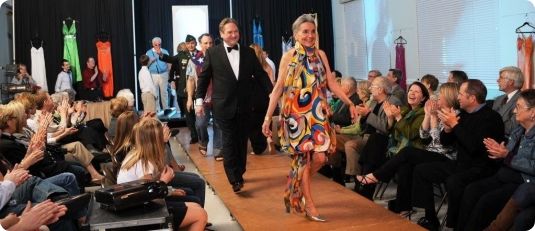 It began as an effort to energize parishioners at St. Paul's Episcopal Church in Dayton, Ohio, for the church's annual rummage sale. By the time it ended, Project ReRunway—a fashion show featuring used clothing—had become a community-wide extravaganza that raised thousands to support Haitians affected by the devastating January earthquake.
"I wanted to do something to fire people up about donating and volunteering for the rummage sale," said Pam McGinnis, chair of the sale. "I came up with the concept of Project ReRunway and it took off from there."
In addition to many volunteers from St. Paul's, Pam recruited help from an extensive network of theater friends, developed from her longtime involvement in community theater. Wade Hamilton, Executive Director of the Dayton Playhouse, offered to stage the event at no cost, and a longtime retailer and fashion show coordinator served as emcee for the event. Area merchants made generous donations of services and prizes.
"A local music store even gave us a grand piano at cost for the weekend!" Pam said. "The entire community was fabulous about making corporate gifts and silent auction donations."
On the night of the event, the church was packed. The evening began with a social hour, highlighted by tunes from jazz pianist Jerv Janney (father of actress Allison Janney), who was a big hit. Guests enjoyed hors d'oeuvres and bid on a multitude of offerings at the silent auction. Attendees also learned about how the Haiti earthquake has affected people's lives through a display of mannequins, each telling the story of an individual impacted by the quake.
Then the main event began. In the parish hall, professional lighting illuminated a 50-foot New York-style runway, transforming the room with an air of glamour. The models, clad in stylish, gently used clothing and accessories, were silhouetted on a screen before strutting down the runway to cheers and whistles. "The audience LOVED it!" Pam said.
Models included the Rev. Jack Koepke, Rector of St. Paul's; Neal Gittleman, conductor of the Dayton Philharmonic; Bill Duncan, Mayor of Oakwood; students from Oakwood High School; members of the St. Paul's confirmation class; and Phyllis Heck of the Oakwood Register.
The event's success far surpassed Pam's hopes. "I'll be honest, I wasn't sure how the church or the community would respond," she said. "Well, the church and the community embraced Project ReRunway with such love and enthusiasm that in a mere two hours, we raised more than $6,100 for Episcopal Relief & Development's relief efforts in Haiti!"
Proceeds from the evening will support the Episcopal Diocese of Haiti, Episcopal Relief & Development's longtime partner in the country. Since the earthquake hit, the diocese has been working continuously to assist those affected, first with emergency needs immediately following the quake and now through long-term recovery initiatives.
Pam expressed her gratitude to the many parish and community members who offered their time, talents and resources to make the event succeed. In addition to generously supporting the people of Haiti, everyone involved—from models to volunteers to guests—greatly enjoyed the experience. "Jerv Janney at the keyboard set the perfect atmosphere—one of supporting a good cause while having fun at the same time," Pam said. Even several months after the event, she noted, "A day doesn't go by without someone asking me when next year's Project ReRunway will be."
She concluded, "All the stars lined up for this one . . . clearly God was present!"