Reflections from Tanzania: NetsForLife®—Changing Lives Here and Abroad, Part 2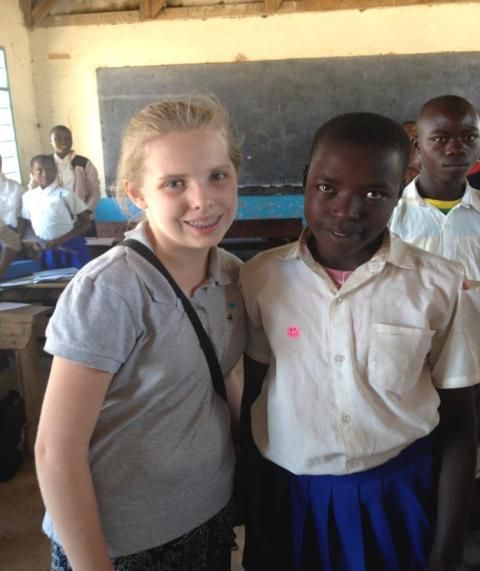 In Part 2, Emma Wright shares more about the Episcopal Diocese of Virginia trip to Tanzania. The team visited the Episcopal Relief & Development NetsforLife® program partnership, which is working to reduce malaria in sub-Saharan Africa. This post is adapted from Emma's original blog on the St. Mary's Episcopal Church (Arlington, Virginia) website.
On our visit, the Diocese of Virginia team learned how NetsforLife® is fighting malaria in Tanzania with mosquito nets, along with training in their use and maintenance. Some of our activities included: malaria net distributions and education at the Mindola Primary School; net demonstrations and distribution of flyers at the Ilindi Dispensary; education for pregnant and expecting mothers in the Bahi Sokoni health center; hanging a net inside a pregnant woman's home; and working in community focus groups and walk-about educational offerings. Not to mention dancing and singing quite a bit too! In fact, almost everywhere we went, residents sang for us and we sang for them.
That Sunday in Mwitikira, row upon row of smiling Christians stood, sang, and awaited the gospel — the same gospel that would be read across the world at St. Mary's, Arlington. As I looked out across that sea of faces, I saw many differences between them and me. However, there was one obvious similarity that rose above them all: we were both gathered in the household of God, trying to live out the Gospel message.
To put it simply: I have been changed by our brothers and sisters in Tanzania. I no longer will motivate myself to raise money for the Bishops' NetsforLife® Inspiration Fund, because now they motivate me; they will always motivate me, in everything I do. It is my hope that they will also help motivate our diocese to continue working towards our goal of 20,000 nets.
At this time, the Diocese of Virginia is approximately one-half of the way to our goal, and St. Mary's has contributed 1,000 of those nets. Thank you all so much for your generosity! Your contributions honestly are changing lives — and saving lives.
Photo: Erin Patton, a Diocese of Virginia team member from St. Mary's, Arlington, with new friends in Tanzania. Courtesy of Ed Wright.