Reflections on Ghana and Stewardship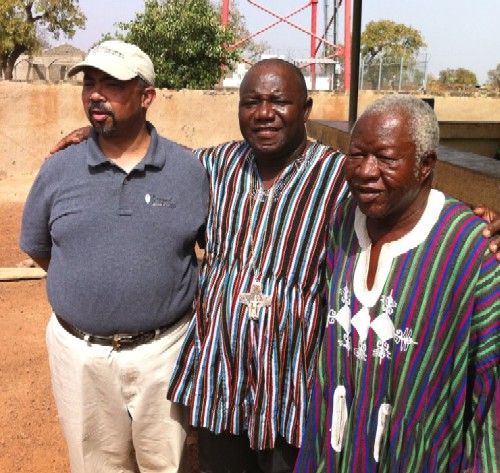 This week, a group of Episcopal Church leaders and lay members have been on a study tour in Ghana, West Africa, to visit Episcopal Relief & Development field partners and programs. Some of their individual responses from the trip will be published on the blog. On Lent 1, Episcopal Relief & Development Sunday, the Rt. Rev. Wendell N. Gibbs, Jr., Bishop of the Episcopal Diocese of Michigan, contemplates his experience and his role in helping to heal a hurting world. Adapted with permission from the Episcopal Diocese of Michigan.
The hours that have passed since Ash Wednesday morning have been filled with wonder, awe, deep gratitude and raw emotion. My Lent began with receiving ashes in an abbreviated service in the chapel at the Anglican Diocesan Disaster and Relief Organization (ADDRO) headquarters in Bolgatanga, Ghana. Surrounded by my fellow pilgrims, the staff of ADDRO and Bishop Jacob of the Anglican Diocese of Tamale, I was made very aware of my own mortality and the importance of repentance, forgiveness and amendment of life. So poignant was that moment I doubt I will ever forget it.
From there, our transport bus moved us into and around the far northeast corner of Ghana where we visited 1) program sites aimed at assisting women improve self-sufficiency through farming and production of marketable foodstuffs; 2) a school that educates the disabled of the community to learn skills and trades that enable them to become self-supporting members of society; 3) homes where mosquito nets are hung and faithfully used by grateful families who appreciate the life-saving nature of the nets; 4) a school where a mechanized water system has made it possible for the students to focus on their education, rather than on hauling water long distances each day; 5) an organic mango plantation that is co-owned by the ADDRO program and the local community, and that provides fruit to be eaten and marketed, as well as skills that can be transplanted to other areas.
At each site, our group had the opportunity to interact with the participants of the programs, hearing firsthand the thanks and deep gratitude they feel for being given the chance to use their God-given talents.
Through these visits and interactions I became increasingly aware of the importance of my own stewardship of God's gifts to me, and have contemplated how best to carry these stories home so that more people can be involved in this amazing mission. One of the more emotional encounters included a visit to a home for babies who by circumstance of birth are essentially abandoned. These are children whose mothers died in childbirth and are blamed by other family members for that death. As such, they are not welcomed into the home and must be cared for by strangers. This is a program in need of our prayers and our support! I/we need to be better stewards of our resources.
Photo: From left, Bishop Gibbs with the Rt. Rev. Dr. Jacob Ayeebo, Bishop of the Anglican Diocese of Tamale and Executive Director of ADDRO, and the Rt. Rev. Emmanuel Arongo, Bishop Emeritus of Tamale. Courtesy of Brian Sellers-Petersen.