Strengthened from Within, Niassa Communities Thrive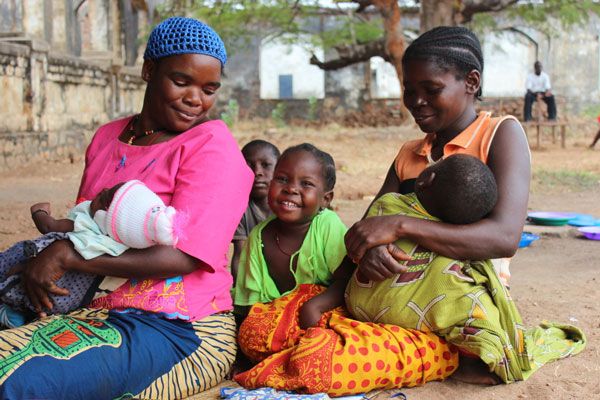 "Four years ago, in every ten children we found three with problems of malnutrition," said Alen, a member of the health committee in Mtumba, a remote village in the northern region of Lago District in Mozambique. "But when we visited the families [this year], we didn't find any child with problems of malnutrition."
Child health and development is just one of the priority areas for the Salt, Light, Health program (Sal, Luz, Saude in Portuguese) in the Anglican Diocese of Niassa, Episcopal Relief & Development's partner in northern Mozambique. The program began in 2005 in response to community requests for assistance on health issues, since nearly half of the population lives more than 20 kilometers (12.4 miles) from the nearest health center. Too many children were dying from easily preventable and treatable diseases, such as malaria, diarrhea, respiratory infections, malnutrition and parasites. In response, Salt, Light, Health has mobilized communities to strengthen their own health systems by establishing oversight committees and nominating volunteers to receive education and outreach training.
In total, Salt, Light, Health has increased access to health care and education for more than 22,000 people since its inception, and from 2008 to present it has expanded from 24 to 44 communities through its partnership with Episcopal Relief & Development. Knowledge and practice surveys reveal significant changes in health outcomes, including a 50% decline in child mortality rates, a 300% increase in vaccine completions for children aged 12-23 months and a 500% increase in pregnant women seeking two or more prenatal consultations with a trained birth assistant.
Over 440 community-based volunteers are actively participating in the program, including health committee members, health facilitators who train health advisors on education and outreach, and local health activists who accompany patients and keep track of health indicators and successes.
"I am grateful for the activities that the activists and health advisors have done," committee member Alen said. "These activities have reduced malnutrition among the children."
The health advisors, the largest group of volunteers, work with ten families each to spread health messaging and encourage people to vaccinate children, seek out HIV testing and organize themselves to improve water and sanitation infrastructure in their communities. Local health activists help this process along by working in their own villages to motivate their neighbors and track progress.
Franco, a Salt, Light, Health activist in Mtimbe, talks to his neighbors during his monthly visits to weigh children and chart growth to ensure healthy development. On his rounds, he discovered that the lack of improved sanitation was becoming a problem as the population increased in the area – of the 400 houses in Mtimbe, only 75 had latrines. But with help from the health advisors, Franco organized his community to make changes that would improve quality of life and reduce disease. Now, almost 300 homes have latrines, and several of the village wells have been cleaned and repaired to keep water sources safe and clean.
Like many programs that Episcopal Relief & Development supports, the strength of the Salt, Light, Health program is that it relies on local volunteers who live and have long-term investment in their own communities. Such community-driven programs have great potential for growth and lasting success, since they are built from the ground up with local resources and in response to ideas presented by the people who live there. Episcopal Relief & Development and its Church partners provide necessary funding to underwrite operating expenses for Salt, Light, Health staff, and t-shirts, educational materials and access to a shared bicycle for volunteers. Support also includes volunteer training and guidance on how to evaluate the success of various projects.
Evaluation is key because program leaders are able to use that information to shape future activities and draw in additional support. For example, because the communities in Niassa have been able to demonstrate their success through record keeping and regular reporting, their efforts have attracted government attention and led to the staffing of the nine new community-built health posts in the region. Such partnerships between Episcopal Relief & Development, local churches and government bodies are growing more and more common, as seen in the countries where the NetsforLife® methodology has been adopted as national policy. Another instance is in the Philippines, where the Church worked with communities and the municipality of Cabiao to install wells and bring safe, clean water to remote mountain villages.
"The greatest impact of the Salt, Light, Health program is not only healing, but also empowerment and sustainability," said Tammi Mott, Program Officer for Episcopal Relief & Development. "Community-driven activities have strengthened feelings of empowerment and self-confidence among participants who now value what they know, and are thus motivated to do something to improve their lives without waiting for help to come from outside. The example of local staff arriving on foot or by bicycle to conduct trainings and follow-up models how volunteers like Alen and Franco can use their own valuable knowledge and energy to create positive change within their communities. The overarching message is that we can do great things with what we have and who we are, if we recognize and build on our strength – our salt and our light."
To read more about Salt, Light, Health, visit the Episcopal Relief & Development blog:
Salt, Light and Health in Northern Mozambique
World AIDS Day 2012: Esperança's Esperança
—–
All photos courtesy of Rebecca J. Vander Meulen, © all rights reserved www.rvmphotography.com