Tyler's Pig Project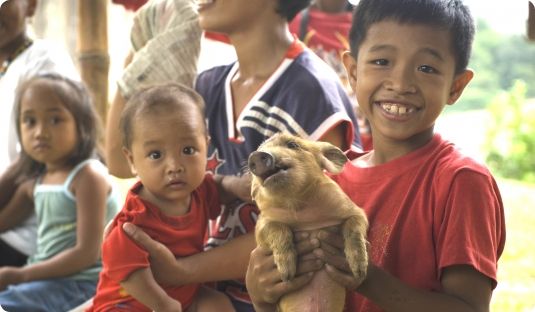 Episcopal Relief & Development's worldwide mission wouldn't be possible without the support of compassionate friends of all ages and backgrounds. Some of our most enthusiastic supporters are children, who often have an instinctive empathy for those in need—and who possess the energy and vision to take action and help.
Five-year-old Tyler, a congregant of the Chapel of the Good Shepherd in Hawk Run, Pennsylvania, recently sent us a letter about his efforts to help kids living in poverty. "When I heard that there are a lot of children in the world without enough to eat or money to go to school, it made me very sad," he wrote.
"I asked my grandmothers how I could help and we started 'Tyler's Pig Project.' I took my idea to Father Cliff at our church and he thought it was great."
With the support of his grandmothers and his church, Tyler launched several fundraisers to purchase pigs for families in need through Episcopal Relief & Development's Gifts for Life program. He put on an all-you-can-eat fish dinner at a nearby restaurant and sold refreshments at a fishing derby. At his grandmother's school, Tyler helped keep a snack box filled and sold homemade lunches to the staff each week.
On top of all this, the enterprising youngster made piggy banks to collect donations at local businesses and church events. "I worked very hard!!" Tyler said.
And in the end, all his work was well rewarded: "I was able to raise $1600 to buy pigs for families to be able to get a better life," he wrote. Enclosing a check to Episcopal Relief & Development, Tyler finished, "Please make sure my money helps the people who need it so bad. Thank you!"
This five-year-old's remarkable efforts and caring heart are humbling. "With young people like Tyler in our Church," said President Rob Radtke, "I'm confident that in spite of the many challenges of poverty, our partnership to heal a hurting world will enable countless numbers of people to better their lives over time."
For more information about Gifts for Life, click here. To support other Episcopal Relief & Development programs worldwide, please visit the following link.