A Pilgrimage to the Holy Land
By Rob Radtke, President & CEO, Episcopal Relief & Development
pil·grim·age (noun)
/ˈpilɡrəmij/ : a journey of a pilgrim
especially : one to a shrine or a sacred place
Over the weekend, 17 Episcopal Relief & Development supporters were invited to gather in Amman, Jordan to start a pilgrimage to the Holy Land. This is our first pilgrimage since the pandemic began three years ago. It is exciting to be with friends and supporters again, exploring the biblical sites associated with Jesus' life and ministry and visiting Episcopal Relief & Development's partner, the Holy Land Institute for the Deaf.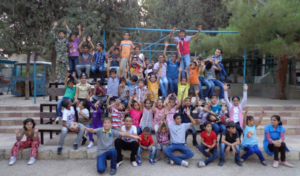 A pilgrimage is not only a trip in the conventional sense of traveling to a destination. It is also about an inward journey to deeper understanding of oneself and one's faith. Episcopal Relief & Development organizes pilgrimages to allow people to see and experience our work up close.Every pilgrim engages in the experience in their own way. Many pilgrims find themselves transformed.
As many readers of this blog know, I recently had the privilege of walking to Santiago de Compostela, which along with Jerusalem and Rome, is one of Christianity's three great pilgrimage destinations. I'm still discerning how that experience transformed me. 
As I set out with my fellow pilgrims on this journey, I am reminded of the "Pilgrim's Prayer" by Nineveh Murray:
Dear God,
We ask your blessing as we travel today in spirit;
Guide our minds as we learn of those who came before us, traversing the pilgrim way.
Give us a hunger to seek your face in paths through fields,
along roads trod by many seeking the blessing of your presence.
Nurture our fellowship
And help us to see each other as a brother or sister
Sharing the journey to your blessed kingdom.
Amen.
What I like about this prayer is that it reminds me that we are not alone on this pilgrimage. We have each other. 
Part of most successful pilgrimages are one's fellow travelers. In fact, a good pilgrimage is a communal experience. One gains insight into oneself through interacting with one's companions on the journey. 
Hold us in your prayers over the coming weeks as we journey through the Holy Land.
---
| | |
| --- | --- |
| | Rob Radtke is the President & CEO at Episcopal Relief & Development. |
---