"A Shield in the Midst of Life's Storms"

In mid-October, I traveled with Katie Mears, our Program Manager for US Disaster Preparedness and Response, to the town of West Pittston, Pennsylvania. West Pittston had suffered severe flooding after Hurricane Irene in 2011, when the Susquehanna River overflowed its banks. Trinity Episcopal Church, part of the Episcopal Diocese of Bethlehem, helped disribute emergency relief supplies immediately following the flooding and is still working with homeowners whose houses can be rehabilitated.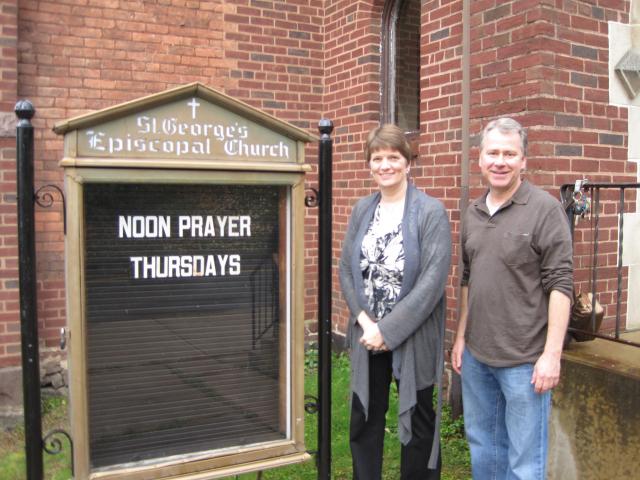 In addition, over the past year, they have been renovating a decommissioned church – St. George's Episcopal Church in Nanticoke – to serve as a diocesan disaster relief and recovery center. Katie and I visited Trinity and St. George's with the Rev. John Major, Trinity's rector and the Diocesan Disaster Coordinator for the Episcopal Diocese of Bethlehem, and Janine Ungvarsky, the Diocesan Project Manager and Trinity FLOODCare Coordinator.
When Katie and I visited, Father John and Janine were getting St. George's ready to host a team of volunteers who could help put the finishing touches on the building – painting the kitchen cabinets, moving furniture so the carpet could be steam cleaned – and then start working on flood-damaged homes in West Pittston. Trinity has "adopted" two streets in the low-lying areas of town, where homes sustained significant flood damage and residents lack the financial resources to repair them on their own.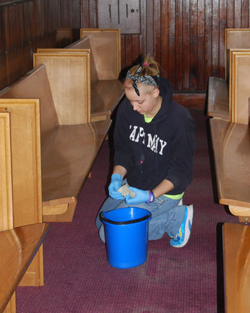 But then along came Hurricane Sandy. Hurricane Irene showed the Northeast that even a "tropical" storm can veer north, and Sandy was predicted to make a direct hit with wind, rain and even snow in the Appalachians. Volunteers from several local parishes scrambled to get St. George's ready to act as a temporary shelter in case people needed to evacuate due to power outages or rising water. They scrubbed pews and laid out pillows and blankets so people could sleep in the former sanctuary, and ensured that the newly installed furnace was in working order.
In the end, Sandy largely spared the area around West Pittston. Janine wrote to say that a few places had lost power, and that people were sheltering with friends and family. But the work that Father John and Janine have done over the past year on behalf of the diocese – readying St. George's, establishing communications links with parishes, encouraging all congregations to create disaster response plans – was definitely tested and shown to be well worth the effort. Even though the need for disaster response this time was relatively small, the peace of mind that comes from being prepared and having emergency systems in place is a comfort in the midst of any storm.
———-
Faith Rowold is the Communications Officer at Episcopal Relief & Development.
Photos: Top – Janine Ungvarsky and the Rev. John Major at the St. George Regional Disaster Recovery & Outreach Center in Nanticoke, PA
Bottom – A volunteer cleans pews at St. George's before Hurricane Sandy (courtesy of Janine Ungvarsky)