An Energetic Teacher in Jordan Stands Out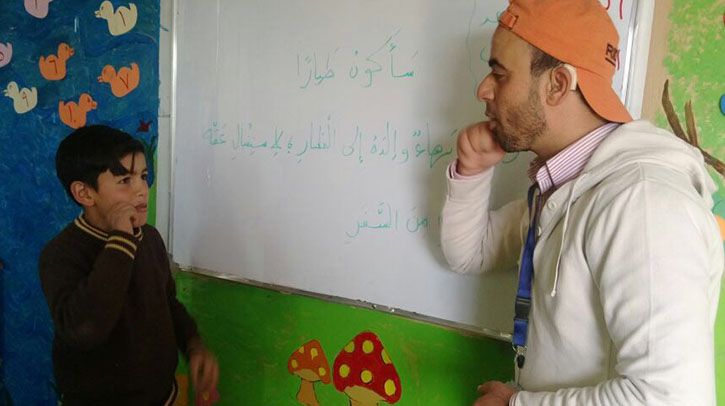 Marwan and I met when I was in Jordan earlier this year visiting Syrian Refugee Camps. He stuck out right away because he was the only male teacher amongst several dozen women teachers. Moreover, as I watched him teach, I was struck by his energy and joy.
After observing him teach, we had lunch together and I heard his inspiring story and I'd like to share it with you.
Marwan has been deaf since the age of three. In the town in Jordan where Marwan was born to Palestinian refugee parents, accessing support and services was very difficult. His parents decided to send him to live with his grandmother in the Jabal el-Hussein Palestinian Refugee Camp. It is there that Marwan first encountered the outreach programs of the Holy Land Institute for the Deaf (HLID) and began his journey to becoming a teacher for deaf refugee children himself.
HLID embraces the philosophy that "if the child cannot come to the school, the school should go to the child." When Marwan was four, he joined a pre-school program sponsored by HLID. In primary school he joined a special needs class held at an all girls school. At that time, there were no male teachers qualified to teach special needs children.
As Marwan moved through the Jordanian education system, HLID continued to monitor his progress. Eventually Marwan returned to his parents' home to complete grade seven to ten where he was fully "mainstreamed" and integrated into the public education system. It was at this point that Marwan first became an HLID volunteer himself—supporting other children with disabilities in his school.
For high school he commuted two hours daily to prepare for the Jordanian High School National Certificate. He was elated when he passed the exam. He then went onto Balqa Applied University to study special education. Once he graduated he began working as a teacher for the deaf at a number of Non-Governmental Organizations in Jordan. He hopes eventually to get a Masters Degree in special education.
When HLID decided to expand its outreach programs to Za'atari Syrian Refugee Camp, they recruited Marwan to join the team. He started in 2014 as a sign language teacher. He oversees two classes for pre-school and one class for teenage deaf and hard-of-hearing boys and girls.
In these classes, deaf students learn Arabic language including pronunciation, signing, writing, grammar and other communications skills. Marwan is an energetic and gifted teacher. I had the privilege of watching Marwan teach a group of middle school boys. I'm not a teacher, but from what I've been told, that's a tough age group to engage. And yet, the delight the teacher and the students took in each other was infectious.
 As we talked over lunch, Marwan made a point of telling me how important it was for him to set an example for other deaf people, especially children. He's young enough to remember the struggles these children face. He wants to inspire them to become everything that they can be. Inshallah*.
---
| | |
| --- | --- |
| | Rob Radtke is the President & CEO at Episcopal Relief & Development. |
---
Images: Top—Marwan and one of his students at HLID; Middle 1—Marwan instructing his sign language class at HLID; Middle 2—Rob Radtke and Marwan in Jordan.
*Allah-willing